1091: Curiosity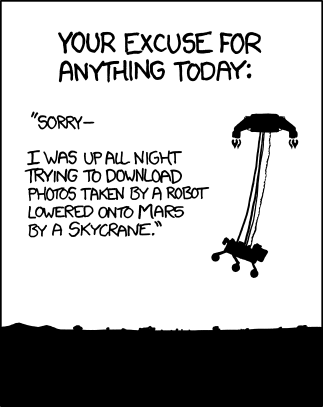 Image text
As of this writing the NASA/JPL websites are still overloaded. Trying CURIOSITY-REAR-CAM_[256px_x_256px].torrent.SwEsUb.DVDRip.XviD-aXXo.jpg instead.
Description
This comic is a reference to the NASA Mars Rover "Curiosity" landing on Mars on 6 August 2012. NASA live-streamed the landing, but demand for the feed caused server issues. Thus, the time spent trying to download the landing images could be used as an excuse for being late for work.
The image text is a reference to torrents, which are often named in long, automatically generated names based on the used codecs.