1141: Two Years
Two Years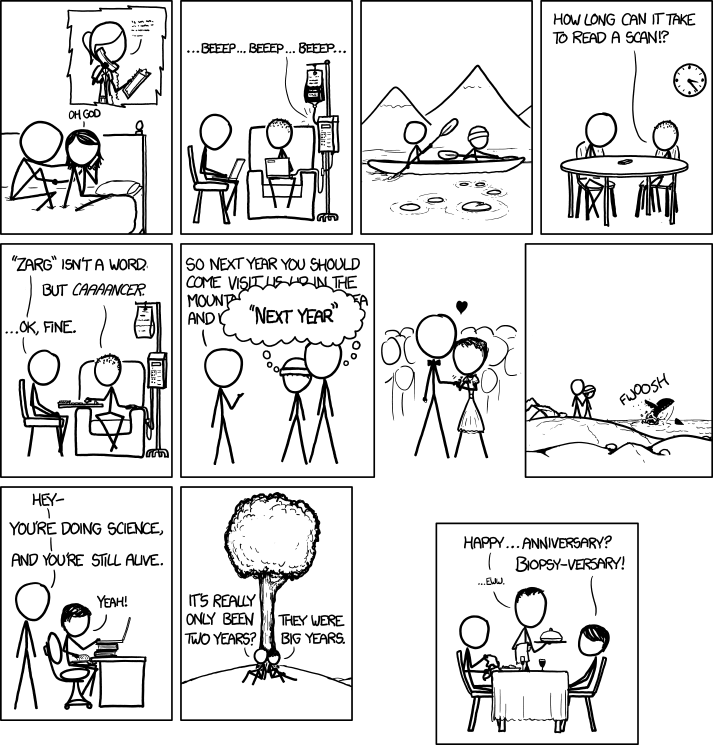 Title text: She won the first half of all our chemo Scrabble games, but then her IV drugs started kicking in and I *dominated*.
Explanation
This comic marks the second year of Randall Munroe's wife's battle with cancer, and appears to depict actual events from those two years. Keeping with tradition, we will refer to Randall's character as Cueball and his wife's as Megan.
Some explanations:
Panel 1: Megan receives a diagnosis over the phone as Cueball sits by her side supportively.
Panel 2: Megan undergoing IV (intravenous) chemotherapy. Because of the hair loss that results from chemotherapy, many patients opt to shave their heads when they undergo chemotherapy. Her hair grows back over the course of the following panels.
Panel 3: The two of them spending time alone together.
Panel 4: The couple are waiting for the results of a scan. A phone sits on the middle of the table while they wait for it to ring.
Panel 5: More chemotherapy. The couple are playing Scrabble, in which players use letter tiles to spell words in a cross-word style. Megan uses the fact that she has cancer as leverage to get Cueball to ignore the fact that the word she has played (zarg) is not a real word.
Panel 6: Someone suggests they come for a visit next year, but all they can think about are the words "next year", indicating that they know the future is very much in doubt.
Panel 7: They get married.
Panel 8: The couple watching humpback whales.
Panel 9: Cueball is paraphrasing a line from the song "Still Alive" (video) from the video game Portal ("I'm doing science and I'm still alive").
Panel 10: Cueball and Megan sit under a tree reflecting on the significance of the past two years.
Panel 11: Cueball and Megan have dinner to celebrate the fact that she has made it two years since her biopsy.
The title text is referring to a possible side-effect of chemotherapy drugs, the inability to concentrate.
Transcript
[Cueball and Megan sitting on a bed. She's on the phone with a nurse (shown in inset), who is looking at a clipboard.]
Nurse: [illegible]
Megan: Oh God
[Cueball and Megan sitting at their laptops. Megan is hooked up to an IV pump and her head is shaved.]
IV pump: ...BEEEP...BEEEP...BEEEP...
[Cueball and Megan rowing a canoe in a lake/mountain setting. Megan is wearing a beanie.]
[Cueball and Megan sitting at a table staring at a phone. A clock is mounted behind them. Her head is stubbly.]
Megan: How long can it take to read a scan!?
[Cueball and Megan playing scrabble. Megan is again hooked up to an IV pump. She has longer stubbles.]
Cueball: "Zarg" isn't a word.
Megan: But Caaancer.
Cueball: ...Ok, fine.
[Cueball and Megan talking to a friend. A large thought bubble is above their heads. She's wearing a beanie.]
Friend: So next year you should come visit us up in the mountain - [cut off by thought bubble]
Cueball and Megan: "Next year"
[Cueball and Megan getting married. He's wearing a bow-tie; she a white dress. A heart is above their heads. Megan's hair is growing back a little.]
[Cueball and Megan standing on the coast, watching a whale jump out of the water. She's wearing a beanie.]
[Cueball standing behind Megan, who is sitting at a desk using a laptop. Her hair has grown back a little more.]
Cueball: Hey-
Cueball: You're doing science,
Cueball: And you're still alive.
Megan: Yeah!
[Cueball and Megan sitting under a tree.]
Cueball: It's really only been two years?
Megan: They were big years.
[Cueball and Megan at a fancy restaurant being served. Her hair has grown back more.]
Waiter: Happy... Anniversary?
Megan: Biopsy-versary!
Waiter: ...eww.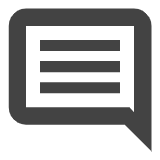 add a comment! ⋅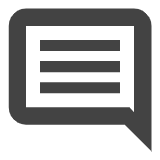 add a topic (use sparingly)! ⋅ 
refresh comments!
Discussion
There are no words to convey how awesome you guys are. Thank you.
Also, great Portal reference.
81.32.87.159 07:30, 30 November 2012 (UTC)
Flip cancer. Lost my mother-in-law to it and now my dad is undergoing chemo for stage IV lung cancer.
Did anyone else think the second to last panel was a couple who were sitting close to ground zero of a nuclear bomb? It took several glances to finally see a tree instead of a mushroom cloud. Sayno2quat (talk) 15:35, 30 November 2012 (UTC)
The language of referring to Randall's girlfriend as "wife" before they were married is awkward.CityZen (talk) 17:47, 30 November 2012 (UTC)
Panel 3 is possible reference/inspiration for comic 1024: Error Code--Shine (talk) 18:56, 30 November 2012 (UTC)

Sooo... Because the clipboard-holding character in the first panel is a woman, we assume she's a nurse instead of a doctor?
Hey I'm not sure if this is the right place to ask questions, but I don't really get why the waiter says eww at the end? Thanks in advance! Love this site! -- 169.229.101.43 (talk) 12:29, 6 December 2012 (UTC) (please sign your comments with ~~~~)
Can we get a Cancer series tag on some of these comics? There have been a lot of them, after all. --Jimmy C (talk) 14:10, 11 December 2012 (UTC)
Since my mother has just made her 27th biopsy-versary, my sympathies, prayers and best hopes are with anyone who has won someone from, lost someone to, is fighting or is fighting with someone, any form of Cancer.
Which is, pretty much everyone; is this forum, with Randall in particular.
Paulo Sedrez 139.82.111.111 20:35, 7 January 2013 (UTC)
the first few frames got me... ;_; 50.4.66.122 03:03, 22 February 2013 (UTC)
I do not know if this is a Scary Thought, but, in IV machines, a long beep repeating itself (for example, the 2nd panel here) means that either the IV machine had finished its infusion or there in an occlusion (which means that the flow from the bag to the vein was cut off somehow, a problem that can be inflicted by simply moving the tube in a way that bends or even folds the tube). If an occlusion occurs, a nurse would need to fix the problem (in my example case: re-'straighten' the tube) and very painfully push the fluid into the vein until the gap caused the occlusion disappears into the vein. Greyson (talk) 20:50, 15 April 2013 (UTC)
I would assume panel 8 depicts their honeymoon since it follows directly after the wedding panel. -j 96.242.254.65 14:18, 8 August 2013 (UTC)
It's been four years since I first read this comic. I still tear up a little each time I get to the "still alive" panel. 108.162.219.81 (talk) (please sign your comments with ~~~~)
Is it just me, or does Randall appear to be performing a biopsy on his dinner in panel 11? Anonymous 03:57, 14 December 2017 (UTC)