1189: Voyager 1
Voyager 1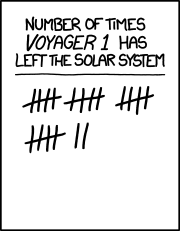 Title text: So far Voyager 1 has 'left the Solar System' by passing through the termination shock three times, the heliopause twice, and once each through the heliosheath, heliosphere, heliodrome, auroral discontinuity, Heaviside layer, trans-Neptunian panic zone, magnetogap, US Census Bureau Solar System statistical boundary, Kuiper gauntlet, Oort void, and crystal sphere holding the fixed stars.
Explanation
Voyager 1 is a U.S. space probe launched in 1977 to study the outer reaches of the Solar System and beyond. Popular press has on several occasions announced that it "has left the solar system" at each point when a boundary has been confirmed or a major event has taken place. This underscores the fact that there is no strictly defined and recognizable boundary of the solar system, or at least we haven't found one yet.
The title text lists several such possible boundaries, together with fictive humorous ones:
See also Voyager over the "heliocliff," but Solar System transition mysterious article on Ars Technica.
Transcript
Number of times Voyager 1 has left the Solar System
[22 tally marks.]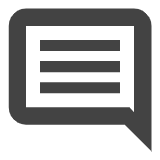 add a comment! ⋅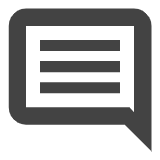 add a topic (use sparingly)! ⋅ 
refresh comments!
Discussion
Uh, not all tally marks are Doctor Who references. Alpha (talk) 05:49, 22 March 2013 (UTC)
Is it just me, or is Randall getting lazy? Most of the past comics have been simplistic, easy-to-draw charts. {{unsigned|98.172.117.132}
Oh, was he talking about the glove? I though it was referring to "running the gauntlet" for some reason. --123.243.217.72 07:17, 22 March 2013 (UTC)
No, that's "running the gantlet." Two words which are often confused for each other. Plus you could run a gantlet of people whacking you with their gauntlets. 63.241.174.129 13:21, 22 March 2013 (UTC)
He almost certainly meant 'gantlet'; I think Randall just got the two words confused (it happens frequently. At this point, dictionary.com lists both spellings as synonymous.) The medieval punishment makes much more sense in context (ie: lots of things that could potentially hit Voyageur.)24.70.188.179 13:31, 22 March 2013 (UTC)
There were several stories two days ago saying it had left, then a correction from NASA saying it didn't. http://science.time.com/2013/03/20/humanity-leaves-the-solar-system-35-years-later-voyager-offically-exits-the-heliosphere/ http://www.pcmag.com/article2/0,2817,2416867,00.asp http://www.nasa.gov/mission_pages/voyager/voyager20130320.html Bugefun (talk) 07:21, 22 March 2013 (UTC)
Is it just me or is it unclear why are there sixteen leaving events described in the title text but twenty-two tally marks on the comic? 188.221.199.135 07:39, 22 March 2013 (UTC)
I just keep hoping that my children will be interested in space. Too late for me, NASA wouldn't want me, but surely my genes are still ok, I hope. To follow voyager down the rabbit hole of our expectations, what else can father ever ask? 166.147.120.177 08:05, 22 March 2013 (UTC)
No it is not just you why there are 22 tick marks, and only 16 countable exits.192.231.124.16 12:03, 22 March 2013 (UTC)
The Crystal Sphere may refer to a David Brin story used to explain the fermi paradox of why we have had no alien contact: http://en.wikipedia.org/wiki/The_Crystal_Spheres Schmammel (talk) 14:37, 22 March 2013 (UTC)
"US Census Bureau Solar System statistical boundary – a fictive boundary defined by": I'm capable of reading 'fictive' as 'conventional' in this sentence; as in "the real census bureau really invented it, like they really invented census areas". I would not have been confused by 'fictional', or by 'a boundary fictively invented', but I'm not sure that the second one is good English. I may have studied too much sociology. 121.73.5.66 07:38, 23 March 2013 (UTC)
"Magnetogap" is probably wordplay on http://en.wikipedia.org/wiki/Magnetopause -- 194.176.203.76 (talk) (please sign your comments with ~~~~)
Big news today (September 12, 2013), as Voyager 1 leaves the solar system. http://www.nytimes.com/2013/09/13/science/in-a-breathtaking-first-nasa-craft-exits-the-solar-system.html and http://www.bbc.co.uk/news/science-environment-24026153 Porkypine (talk) 19:47, 12 September 2013 (UTC)
It appears this comic may become relevant again, if these guys are correct. It's supposed to have crossed the current sheet late last year, so we may find out soon if Voyager is still here. http://onlinelibrary.wiley.com/store/10.1002/2014GL060781/asset/grl51945.pdf?v=1&t=imnldq4k&s=3e62d6267158bfc259d6b16de42ab4c2d942b900 162.158.146.247 15:45, 5 April 2016 (UTC)
Fixed some typos/grammar and modified the logic of the bullets (a bullet for "real" boundaries, followed by "the rest" - including two real boundaries - didn't make any sense to me).Xseo (talk) 19:02, 7 July 2016 (UTC)
Perhaps changing the kuiper belt to a gauntlet is related to Thor's items, which are a hammer, a belt, and gauntlets? 141.101.104.134 18:37, 28 April 2022 (UTC)