1584: Moments of Inspiration
Moments of Inspiration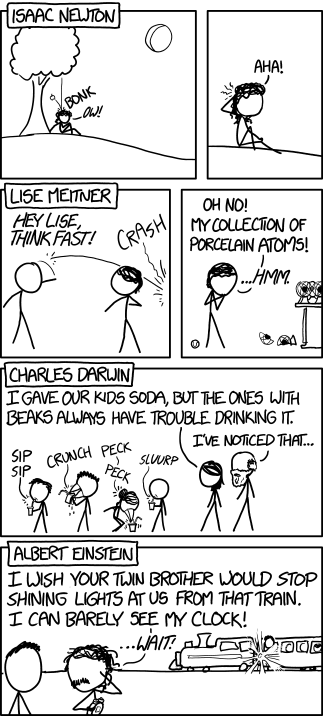 Title text: Charles, I just talked to John and Mildred, who run that company selling seeds and nuts, and their kids with MOUTHS are starving!
Explanation
In the first part, an apple falls from a tree and hits Isaac Newton on the head. Isaac Newton's first reaction is pain, and his second reaction is, "what force causes objects to fall?" Isaac Newton's discovery of gravitational force after this apple-tree accident is a famous legend in science. In the following parts, similar (but more implausible) legends are formulated about how other famous discoveries were made. Someone threw a ball at Lise Meitner's porcelain (model) atom collection, and Meitner discovered a way to split the atom. Some of Charles Darwin's children had beaks, which made them less able to drink soda. This is a reference to Darwin's initial findings on the RMS Beagle on how Galapagos finches with differently shaped beaks are better suited for specific types of food, and therefore are better selected for in environments where those foods are available. (The alt-text furthers this with a description of how beaks rather than mouths are more useful when the foods have shells that need to be cracked open.) Albert Einstein remarks to a man that it's annoying that the man's twin brother keeps flashing a light from a train when Einstein is trying to check his clock. He then comes to a sudden revelation. This references several of Einstein's (separate--it makes little sense together in this manner) thought experiments on special relativity, such as the twin paradox (the twin on the train should be younger after decelerating to a stop), the time between separate flashes of light, and the time dilation experienced by the observer in the moving reference frame.
Transcript
| | |
| --- | --- |
| | This transcript is incomplete. Please help editing it! Thanks. |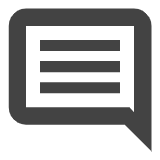 add a comment! ⋅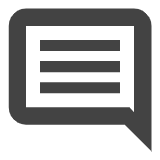 add a topic (use sparingly)! ⋅ 
refresh comments!
Discussion
Needs to explain who Lise Meitner is - I'd never heard of her, she's not on a level with the others in public consciousness. 141.101.70.43 (talk) (please sign your comments with ~~~~)
Does anyone know who "John and Mildred" might be? --Lou Crazy (talk) 09:13, 30 September 2015 (UTC)
I'd like to point out that Newton really was inspired by watching apple fall, that isn't a myth. The myth is that he was actually hit by the apple. https://en.wikipedia.org/wiki/Isaac_Newton#Apple_incident KingSupernova (talk) 12:17, 30 September 2015 (UTC)
according to the german wikipedia, today's the tenth birthday of xkcd. i wonder if there's a connection between that and this strip's title... 162.158.114.157 14:43, 30 September 2015 (UTC)
This comic seems to be about our desire to have neat stories that explain scientific discoveries. Each panel has an increasingly ridiculous story that explains a "Moment of Inspiration". Bartash (talk) 16:27, 30 September 2015 (UTC)
The phrase "Hey Lise" seems like a possible Simpsons reference? 141.101.98.239 18:03, 30 September 2015 (UTC)
This comic may or may not be inspired by SMBC http://www.smbc-comics.com/index.php?db=comics&id=2353 162.158.93.42 19:52, 1 October 2015 (UTC)

The explanation says Darwin had understood Mendel's work on genetics. I understand that there is no evidence he read Mendel's work, or understood the implications it had for the theory of evolution. I know some have claimed he had some version of Mendel's work in his papers when he died, but this appears to be disputed and I have never seen any evidence. Considering the profound implications Medelian inheritance would have on the theory I'd have thought Darwin would have mentioned it if he was aware...Magdalen (talk) 19:25, 2 October 2015 (UTC) Reference for the Darwin Mendel situation: http://members.shaw.ca/mcfetridge/darwin.html Magdalen (talk) 19:41, 2 October 2015 (UTC)