1743: Coffee
Coffee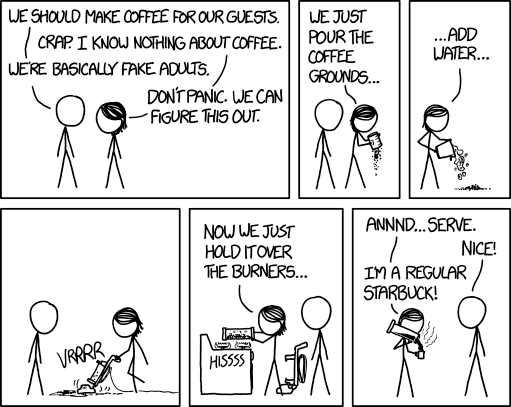 Title text: Remind me to order another pack of coffee filters from Dyson. Man, these things are EXPENSIVE.
Explanation
This explanation may be incomplete or incorrect: Created by a BOT - Please change this comment when editing this page.
If you can address this issue, please edit the page! Thanks.
Transcript
| | |
| --- | --- |
| | This transcript is incomplete. Please help editing it! Thanks. |
[Cueball facing Megan, blank background.]
Cueball: We should make coffee for our guests.
Megan: Crap. I know nothing about coffee.
Cueball: We're basically fake adults.
Megan: Don't panic. We can figure this out.
[Megan shaking can of coffee grounds out on floor as Cueball watches.]
Megan: We just pour the coffee grounds...
[Megan pouring pail of water over grounds on floor.]
Megan: ...Add Water...
[Cueball watching Megan vacuum up mixture with bagless vaccum cleaner.]
vacuum: vrrrr
[Megan holding vacuum cleaner dirt canister over stove, Cueball watching. Vacuum cleaner in background.]
Megan: Now we just hold it over the burners...
oven: hissss
[Megan pouring contents of vacuum cleaner dirt canister into mug, while Cueball watches]
Megan: Annnd...Serve.
Cueball: Nice
Megan: I'm a regular starbuck!
panel 1: [A Huge panel over half the textwidht. Cueball on the left is facing Megan on the right]
panel 2: [A small panel over a quarter textwidth. Cueball on the left is watching Megan pourring coffee on the ground out of a can.]
panel 3: [A small panel over a quarter textwidth. Megan pourring water out of a can on the coffee on the ground.]
panel 4: [Cueball facing Megan sucking the coffee with a vacuum cleaner in.]
panel 3: [Cueball facing Megan boiing the coffee o er the oven.]
panel 6: [Megan pourring the coffee in a mug. Cueball watching her.]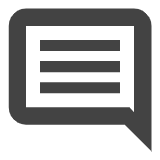 add a comment! ⋅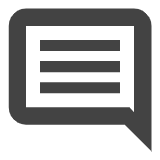 add a topic (use sparingly)! ⋅ 
refresh comments!
Discussion
For me as a non-native speaker this XKCD looks like the guests ordered Ground Coffee and Cueball didn't realize that ground might come von "grind". Gunterkoenigsmann (talk)--
With "I'm a regular Starbuck" Megan says, she is a regular visitor of Starbuck and has learned her skills there watching. Sebastian --162.158.83.168 08:10, 7 October 2016 (UTC)
The expensive coffee filter comment might be a reference to the ridiculously high prices for vacuum cleaner bags. --162.158.85.249 08:12, 7 October 2016 (UTC)
Can you actually "hoover" something up with a Dyson? ;-) 162.158.22.72 08:37, 7 October 2016 (UTC)
megan explicitly calls them "grounds," probably because that's what they're called on the packet. no one mentioned beans. what made you think of beans? also, she's heard of "starbucks" and thinks it's a collection, and, since she is just one person she calls herself a starbuck. oh well. --141.101.98.84 11:54, 7 October 2016 (UTC)
are made of plastic and would melt or ignite if placed over direct heat from a stove – no, they wouldn't; not as long as there is liquid water in it. You can even use a paper-cup to boil water. --DaB. (talk) 17:03, 7 October 2016 (UTC)
Another reason why the coffee will be very expensive: if you throw a package of beans on the ground, you need many, many, many beans, as there is not enough surface on the beans to make the water brown and give the water any taste. With ground coffee you can get several cans out of one package, the method illustrated here needs at least one package per try. --User:Anonymous guest 141.101.104.29 20:19, 7 October 2016 (UTC)
I think this might also be related to the The Coffee Test, proposed by Goertzel as a way to measure Artificial general inteligence. By this standards they really seem to be "fake adults". Qbolec (talk) 15:16, 9 October 2016 (UTC)
When I first saw this cartoon - I thought that the point was that our heroes had looked online for a way to do this - and somehow tripped over one of those old vacuum cleaner adverts where the salesperson throws coffee grounds and water onto your rug, then vacuums it up to have it look like new. I'm not sure that was what was in Randalls head - but it's another interpretation of the cause of the error that is being made in the story. SteveBaker (talk) 01:37, 10 October 2016 (UTC)
When I saw the overall content, I thought it was in reference to the quality of Starbucks coffee... tastes about the same as drink something brewed off the floor.108.162.246.116 19:29, 11 October 2016 (UTC)
I have some issues with parts of the current explanation, primarily due to the fact that I own a Dyson and know its parts inside and out. For starters, while it does have two filters, the materials collected in the canister are never in contact with either one. Both filters are for removing fine particles from the expelled airflow, with the last one at the HEPA level. In addition, my Dyson is not designed to vacuum liquids (although newer models may allow it), and some of the liquid might get to the first filter element at the motor and cause minor problems (yuck), but both filters are in fact washable and don't need be replaced. Furthermore, when Megan is pouring out the canister, there's no filter in that area of the canister to remove either the coffee grounds or 'the ground' from the brewed coffee - I think this is part of the 'eewwww' factor with this comic!
Since this is a bit pedantic, I'm not going to alter the current explanation but wanted to point out these details from my own Dyson. Peace, out.  ;-) --Ianrbibtitlht (talk) 17:07, 5 June 2017 (UTC)
It could also indicate that the characters have never used the vacuum, as Cueball and Meghan don't even know how a vacuum filter works