1934: Phone Security
Phone Security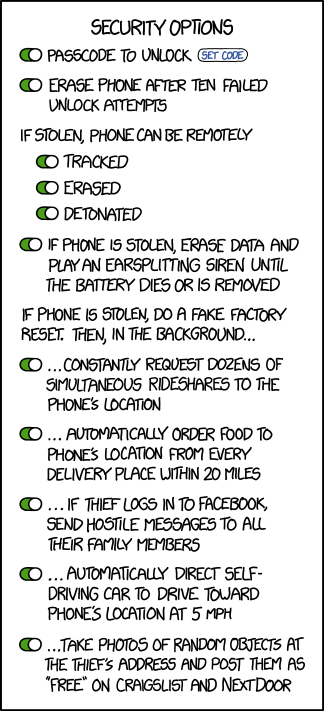 Title text: ...wait until they type in payment information, then use it to order yourself a replacement phone.
Explanation
This explanation may be incomplete or incorrect: Created by a Man whose Phone was stolen - Please change this comment when editing this page. Do NOT delete this tag too soon.
If you can address this issue, please edit the page! Thanks.
This comic pokes fun at various phone security measures. At first, it covers some real measures, and then continues on to measures that are clearly somewhat overzealous or otherwise humorous. It is worth noting that all of the options are turned ON in the screen shown, so apparently the owner must be very afraid that their phone is going to be stolen, or just wants to see what will happen. These may be options that would appear on the XKCD phone, but that is not mentioned specifically, and this comic does not appear to be directly linked.
The first two options: Set Passcode to Unlock, and Erase phone after 10 failed unlock attempts are both real security measures found on most phones. The additional options: If phone is stolen it may be:
   Tracked: This would be reasonable, as it would allow the police to catch the perpetrator and return your phone.
   Erased: This would also be reasonable, as it would prevent any sensitive data from being taken by a thief.
   Detonated: This would be less reasonable, as it would likely harm the thief, possibly severely depending on how the phone was detonated.

If the phone is stolen, play an earsplitting siren until the battery dies or is removed: This would be to draw attention to the thief, and discourage them from stealing future phones. If the phone is stolen, do a fake factory reset. Then, in the background... :This series of options is all humorous, indicating that the phone would allow the thief to think that it had factory reset, but the phone would, in fact, not do so, and would instead foil the thief by doing various horrible things to them.
   Constantly Request Dozens of Simultaneous Rideshares to the Phone's Location: This would cause tons of "rides" to show up at the stolen phone, leaving a lot of annoyed ridesharers, and possibly alerting the police to the thief's location.
   Automatically order food to the Phone's location from every delivery place within 20 miles: This would be similar to the ridesharing issue, except it would be implied that the thief would be on the hook to pay for all of that delivered food. This could also lead the police to the thief.
   If the thief logs into Facebook, send hostile messages to all their family members: This has now deviated from things that could even possibly be useful, and is now just getting revenge on the thief, or potentially the person that the thief sells the phone to.
   Automatically direct self driving car to drive toward the phone's location at 5mph: This would cause a self driving car to slowly follow the thief. This could absolutely catch the thief, but would also just be really, really creepy. This is similar to the plot of the movie "It Follows".
   Take photos of random objects at the thief's address and post them as "Free" on Craigslist or NextDoor: Craigslist and NextDoor are sites that allow people to post advertisements for various things. Posting a large number of things for free would cause a lot of people to show up at the thief's residence (though it is not noted how the phone would know where the thief resides) requesting the free things, or, more humorously, if the thief was not home, people may just come by and take things, causing them to steal from the thief. This would be a humorous form of poetic justice.

The title text extends the last category with: Wait until they type in payment information, then use it to order yourself a new phone. This would be the ultimate in poetic justice, as it would basically say that the user does not care if their phone gets stolen, because the thief will end up unintentionally buying them a new one. If the thief were to complain about this, they would have to admit that they had stolen the first phone in order to do so, which they would be disinclined to do.
Comic shows a phone security screen with toggles. The first few are fairly normal, with a passcode to unlock, an option to erase the phone if the wrong passcode is entered 10 times, and permissions to remotely track and erase the phone if it is lost or stolen. A non standard option is also listed, which is the option to remotely detonate the phone. Other options which may be more or less realistic is to erase the data and play a earsplitting siren while the battery is powering the phone. Another non-standard option is to do a fake factory reset and then begin destroying the thief's life by: requesting dozens of ride shares to the phones location, order food to the phones location from every fast food delivery place around, threaten the thief's friends and family on Facebook if they log in to the service, automatically direct a self-driving car to drive toward the phone at 5 mph, which is a variation of the monster in "It Follows", and take photos of random objects and post them as "free" on Craigslist and Nextdoor.
All these options are toggled on.
The title text has a last option that would wait until the thief enters their payment information, and then order a new replacement phone for you.
Transcript
| | |
| --- | --- |
| | This transcript is incomplete. Please help editing it! Thanks. |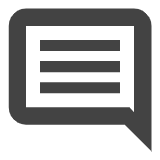 add a comment! ⋅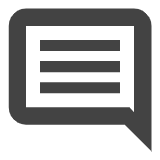 add a topic (use sparingly)! ⋅ 
refresh comments!
Discussion
"Detonated" ah, so this is the feature that Samsung was prototyping last year... Andyd273 (talk) 15:39, 27 December 2017 (UTC)
Someone needs to make a jailbreak that does as much of this as possible, especially the ridesharing and siren 😂 PotatoGod (talk) 15:52, 27 December 2017 (UTC)
Made a account just to ask this - why is the post still considered incomplete? It looks complete to me. Donutman (talk) 13:59, 28 December 2017 (UTC)
I first thought "erase phone" meant "erase physically", but "detonate" makes that somewhat redundant. 141.101.105.240 11:54, 29 December 2017 (UTC)
Hahaha!!! Waiting for the iOS update with all these features... Herobrine (talk) 13:45, 18 March 2018 (UTC)