1941: Dying Gift
Dying Gift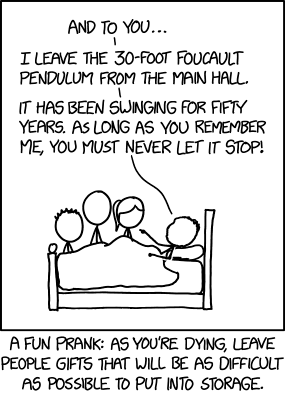 Title text: And to you, I leave my life-sized ice sculpture replica of the Pietà which was blessed by the Pope. You must never let it melt! Now, remember, all gifts must be removed from my estate within 24 hours.
Explanation
This explanation may be incomplete or incorrect: Created by a BOT - Please change this comment when editing this page. Do NOT delete this tag too soon.
If you can address this issue, please edit the page! Thanks.
Transcript
| | |
| --- | --- |
| | This transcript is incomplete. Please help editing it! Thanks. |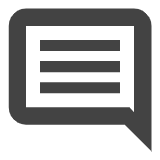 add a comment! ⋅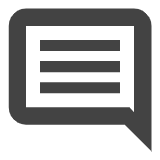 add a topic (use sparingly)! ⋅ 
refresh comments!
Discussion
Wikipedia has a list of most Foucault pendulums in the world, if anyone wants to try to guess what museum he worked for :) https://en.wikipedia.org/wiki/List_of_Foucault_pendulums Hawthorn (talk) 12:11, 12 January 2018 (UTC)
I am working on a fan project related to xkcd and I am hoping to release it on the 2000th comic. How much longer do I have? DPS2004'); DROP TABLE users;-- (talk) 16:33, 12 January 2018 (UTC)
There is a superstition that the stopping of a clock's pendulum will cause (or will be caused by) the death of the clock's owner. A less superstitious version is that a clock's pendulum must be kept swinging as a token of rememberance. Therefore it is actually quite realistic that a dying person might instruct the inheritor of a pendulum clock to never let it stop. However, Randall turns the situation absurd by replacing the pendulum clock with a Foucault pendulum, not only because of the difficulty of moving the pendulum while it's swinging, but also because there's no such superstition associated with Foucault pendulums (that I could find, at least). 162.158.238.112 17:51, 13 January 2018 (UTC)
The possibility that the old man's requests will be ignored are in direct proportion to the possibility of him being capable of exacting revenge from beyond the grave.--These Are Not The Comments You Are Looking For (talk) 01:16, 14 January 2018 (UTC)
Should be mentioned: http://tvtropes.org/pmwiki/pmwiki.php/Main/LastRequest 162.158.92.58 08:20, 14 January 2018 (UTC)
Theres's a loophole with pieta ice sculpture rules. You can break it into pieces, which makes it much easier to transport within 24 hours without melting. Then just bring the pieces to someone with a vaccum chamber and let all the ice sublimate. Done :) 172.68.51.226 13:10, 23 August 2018 (UTC)