194: Penises
Penises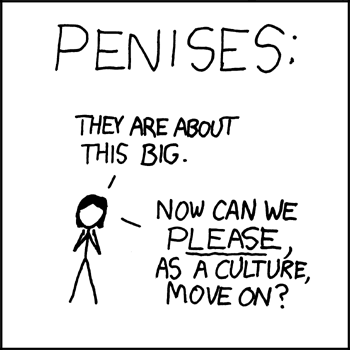 Title text: The penis varies in size when flaccid and is pretty consistently about yea big when erect. Anyway, back to the sitcom one-liners and the constant flow of spam.
Explanation
The comic aims at the obsession with the male sexual organ found in nearly every human culture. In general, depictions of an erect penis (also called phallus) is regarded as a symbol for male potency.
While present in every human civilisation, the symbol of the penis is also prominently featured in modern mass media. Many films and television series make use of penis-related jokes. A very common trope is the resemblance of various objects to an erect penis, eg. in architecture. The title text also refers to the excessive advertisement for potency pills and penis enlargement in spam emails. The symbol of the phallus can be regarded as omnipresent in modern society, with presumably every public toilet sporting at least one badly drawn depiction of a penis.
In the comic, Megan criticises the infantile dealing with the phallus symbol in modern society. In her opinion, there is not much more to be said about penises than how big they are. On the contrary, she supposes excessive preoccupation with penises to hinder cultural progress.
Transcript
Penises:
Megan: They are about this big.
[Holds her hands about half a foot apart]
Now can we PLEASE, as a culture, move on?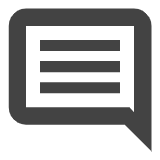 add a comment! ⋅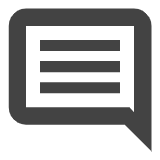 add a topic (use sparingly)! ⋅ 
refresh comments!
Discussion
Anyone who thinks erect penis size does not vary is leading a very sheltered life. 184.66.160.91 02:29, 27 August 2013 (UTC)
Note that "watching monster-cock porn" is not the opposite of "leading a very sheltered life". A quick google search showed that 97% of men are 8 inches or less. Within the normal rules of probability, Megan is correct. 108.162.219.58 (talk) (please sign your comments with ~~~~)
A few points. First, if you're a straight man who doesn't take porn at face (or penis) value, you're not necessarily sheltered, you just don't have a large sample size (one?). Second, even accepting your uncited fact, that still leaves a pretty wide range. A penis of 4-5 inches is noticeably different in size than one of 7-8. Erronius (talk) 06:02, 7 April 2014 (UTC)
My irony meter just exploded 108.162.250.210 15:30, 4 December 2014 (UTC)
Could "flow of spam" be a pun on a word that sounds like "spam"? 173.245.53.160 15:55, 9 November 2013 (UTC)
No. 108.162.215.29 02:50, 17 January 2014 (UTC)