2068: Election Night
Election Night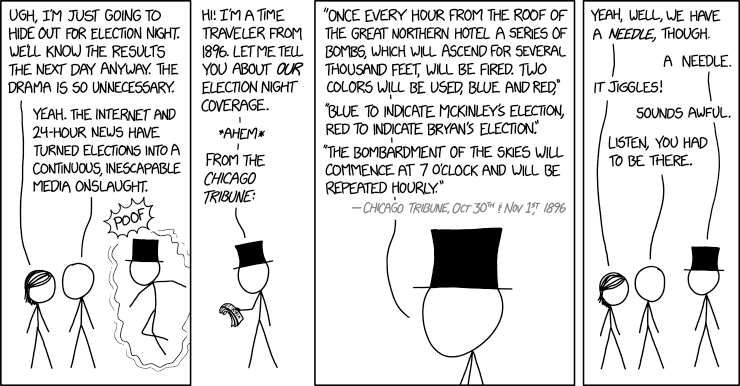 Title text: "Even the blind—those who are anxious to hear, but are not able to see—will be taken care of. Immense megaphones have been constructed and will be in use at The Tribune office and in the Coliseum. The one at the Coliseum will be operated by a gentleman who draws $60 a week from Barnum & Bailey's circus for the use of his voice."
Explanation
This is the third comic in a row that deals with elections in the United States; the trio has been published in the week before the US midterm elections held on November 6, 2018 and it compares media coverage on election results in 1896 and 2018.
While elections and voting have been a public staple for generations, election coverage by the media can result in voter fatigue. While voter fatigue is considered a major criticism of things like first past the post voting systems, media outlets will also contribute.
The time traveler from 1896, wearing a top hat (the typical hat used at that time), presents Megan and Cueball a method how the latest news --over the night-- is published to the public. No broadcasting television or even radio existed then and most newspapers, reaching the readers on the next morning, were printed in the evening before the election results were certain. For the election referenced in this clipping, Republican candidate William McKinley (assigned the color Blue) won in a close race against Democrat-Populist candidate William J. Bryan (assigned the color Red).
Here, Randall is taking a unique opportunity to point out that unlike our recollection of history (which is usually modified by the misinformation effect, where we perceive the past as being easier and find a source to blame for the election night jitters) that in fact, in the past, a bombardment of fireworks every hour was used to convey the hour-by-hour play of the election night, a significantly more jarring effect that couldn't even be turned off. We have progressed, in some ways, to a more opt-in system, rather than the opt-out system of the past, where you had to leave Chicago to avoid the news.
The part about the "jiggling needle" may be a reference to the New York Times' 2016 presidential election results webpage, which displayed a "needle" it used to forecast the results of the presidential election between then-candidate Donald Trump and Hillary Clinton. The position of the needle was initially set based on pre-election polls, pointing heavily toward Hillary Clinton, but as election results from around the country -- and from individual counties within states -- started coming in it changed to reflect those results. Especially near the beginning, before a lot of real election data had come in, results reported from small counties could dramatically swing the needle to one side or the other when coming from heavily Democratic or Republican districts, then swing again when another county reported. Only when a significant amount of data had come in did the needle settle down and move more incrementally.
The title text explains that in 1896 even blind people were taken care of, as enormous megaphones were installed to convey the news equally unavoidably to those who couldn't (or didn't want to) see the color bombs. Fortunately, this was not really the case
Transcript
[Megan and Cueball face each other while talking on the left of the panel]
Megan: Ugh, I'm just going to hide out for election night. We'll know the results the next day anyway. The drama is so unnecessary.
Cueball: Yeah. The internet and the 24-hour news have turned elections into a continuous, inescapable media onslaught.
[A man in a top hat appears on the right side of the panel with a "Poof"]
[Panel with just the man in a top hat, holding a newspaper]
Man in a top hat: Hi! I'm a time traveler from 1896. Let me tell you about our election night coverage.
Man in a top hat: *Ahem*
Man in a top hat: From the Chicago Tribune
[Zoom in on head of the man in a top hat]
Man in a top hat: "Once every hour from the roof of the Great Northern Hotel a series of bombs, which will ascend for several thousand feet, will be fired. Two colors will be used, blue and red."
Man in a top hat: "Blue to indicate McKinley's election, red to indicate Bryan's election."
Man in a top hat: "The bombardment of the skies will commence at 7 o'clock and will be repeated hourly."
[Grey citation]: Chicago Tribune, Oct 30th & Nov 1st, 1896
[Megan and Cueball on the left looking at the man in the top hat on the right]
Megan: Yeah, well, we have a needle, though.
Man in a top hat: A needle.
Megan: It jiggles!
Man in a top hat: Sounds awful.
Cueball: Listen, you had to be there.
Trivia
The character with the large black top hat is wearing a typical hat worn by wealthy men at the late 19th and early 20th century and should not be mixed up with Black Hat. . . though the fact that he appears from nowhere just to tell total strangers why they're wrong IS somewhat suspect - he could be one of Black Hat's ancestors.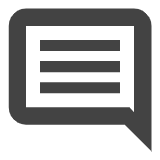 add a comment! ⋅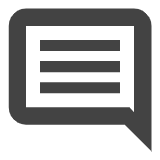 add a topic (use sparingly)! ⋅ 
refresh comments!
Discussion
This is an early example of using red and blue to denote candidates and parties. Here, McKinley (R) gets blue and Bryan (D) red; it wasn't standardized on blue for Democrats and red for Republicans until after the 2000 election. NBC News having used red/R and blue/D that year, Tom Brokaw was the first to speak extensively of "red states" and "blue states" elevating that to political meme status and leading to standardization. 162.158.78.166 14:36, 5 November 2018 (UTC)
I distinctly remember the reporting during the 1980 election (Reagan vs. Carter) that the TV news used blue for Republicans and red for Democrats. I don't know why they later switched, but I have always assumed that Democrats got offended by the use of red (the color of the USSR's flag and many other communist organizations) for their party. Shamino (talk) 15:19, 5 November 2018 (UTC)
God I feel awful for the Civil war vets with PTSD who decided to reside in Chicago. 172.69.33.11 17:05, 5 November 2018 (UTC)
What is the 'Needle' referring to? 162.158.142.4 17:46, 5 November 2018 (UTC)
I was reading this, expecting the last page (or the title text) to have someone commenting that lecturing to modern people about how things were in the past is a pretty trivial or bizarre waste of something as momentous as time travel; and top hat guy to reply that he didn't come to bring them a message, he's just avoiding the fireworks because he's fed up of the modern election-night media circus. -- Angel (talk) 17:50, 5 November 2018 (UTC)
Does anyone have a source for the 1896 reporting via fireworks referred to here? I've done a few Google searches, but so far haven't found anything. Historic issues of the Chicago Tribune is behind a paywall, so I can't go look there directly. Shamino (talk) 18:40, 5 November 2018 (UTC)
There needs to be a reference to "Dewey Defeats Truman" in the explanation. When Megan says they will get the election results the next day this would not have been the correct reults. The Chicago Daily Tribune published a newspaper with the headline "Dewey Defeats Truman" but the newspaper article was wrong. Because of publishing deadlines they published what they thought was correct but more results came in later and Truman won. With the internet and 24 hour news stations this problem does not exist. Also perhaps there could be a reference to Florida's "hanging chad" which caused caused the election results to be decided in the coarts and not overnight. Punchcard (talk) 15:20, 6 November 2018 (UTC)

Papal conclave
No one else sees parallels to the smoke colors after a papal conclave? It's white and black there, but the principle is the same (no telecommunication, ...) --Dgbrt (talk) 20:15, 5 November 2018 (UTC)

Is the needle a relative of the good old swingometer. The BBc's favoured method of showing predicted General Election results based on polling and a uniform swing. 162.158.39.41 00:06, 6 November 2018 (UTC)
Real?
Is the newspaper clipping quoted real? Does anyone have a link to a scan of it? Would be good to know if it's true history or just a joke. -162.158.79.65 04:11, 7 November 2018 (UTC)