2269: Phylogenetic Tree
Phylogenetic Tree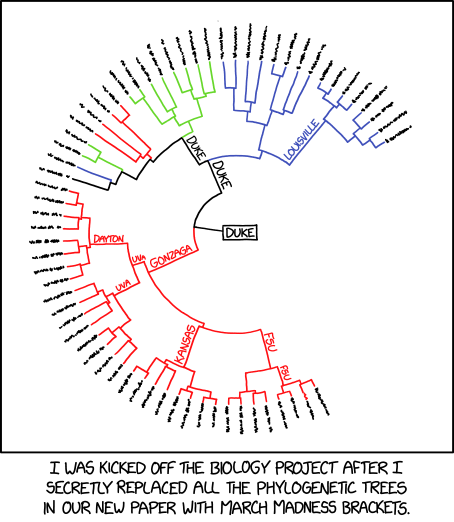 Title text:

And I was kicked out of my March Madness pool because I wouldn't shut up about the evidence for NBA/ABA endosymbiosis.
Explanation
In biology, phylogenetic trees are a way of showing evolutionary relationships between species. Each split in the tree represents a species that was the common ancestor of the two species beneath it, resulting in a bifurcating structure that can be followed all the way back to a single root - the most recent common ancestor of all species in the tree.
In sport, a tournament tree is a diagrammatic way of showing the progress of competitors in an elimination tournament. Each split in the tree represents the winner of a match between the two competitors beneath it. This too results in a bifurcating tree structure, which eventually terminates at a single root representing the champion of the tournament. Tournament brackets are a recurring theme at xkcd.
In this comic, Randall has taken advantage of the similarity between these two diagrams in order to prank his fellow biologists.
Each year in the United States, in March and early April, 68 National Collegiate Athletic Association (NCAA) Division I college basketball teams play in a single elimination postseason tournament to decide the national champion of college basketball. This tournament is colloquially known as March Madness. Associated with this tournament, it has become commonplace to guess the outcomes of each game, and predict who will win the tournament. A diagram illustrating the progress and elimination of teams through the tournament is called a bracket. Presumably Randall is referring to the men's college basketball tournament here, though there is a separate women's college basketball tournament that is also referred to as "March Madness".
Randall has replaced the trees in a biology paper with a basketball March Madness bracket, which is not related to biology. The 2019-20 NCAA college basketball regular season had not ended yet at the time of this comic's publication, so the partial bracket shown is a fictional bracket. Compared to a phylogenetic tree, the 'root' of a tournament tree is the final result (once known), rather than the common ancestor that was prior in time to all those that came after; the 'leaves' are all the initially hopeful competitors, rather than the latest extant (or unsucceeded extinct) organisms.
The title text shows the inverse of what the comic says: Apparently the March Madness bracket pool removed Randall after he tried to introduce biology-related evidence comparing the National Basketball Association (NBA) and American Basketball Association (ABA) to organisms and claiming the ABA is an endosymbiont living inside the NBA. An endosymbiont is an organism living inside another organism. In a way, this can be considered true of these two leagues, as the NBA and ABA merged in 1976 after which the ABA ceased to exist. 4 teams from the ABA, the Denver Nuggets, Indiana Pacers, Brooklyn Nets and San Antonio Spurs, continue to exist today as NBA teams. It is additionally humorous that Randall brings up the ABA/NBA merger in a March Madness bracket group, as March Madness is a college basketball tournament, as opposed to professional basketball played by the NBA and ABA.
A March Madness bracket was also the topic of 1819: Sweet 16.
Teams shown in the bracket
The bracket shows the Duke University basketball team winning the NCAA college basketball tournament. Strangely, it shows Gonzaga University linked only to explicitly non-Gonzaga branches, suddenly appearing out of the bottom section, which is not possible in a sports bracket context, but possible in biology if Gonzaga is an identified ancestral root with all descendant evolved species identified by a new term. In fact, the implied unchanged continuity of Duke from 'universal ancestor' to niche population sharing the world with all of its diverged and re-evolved outbranchings (rather than perhaps used as a term for a typically broad cladistic group of branches, such as Archaea) would be more curious - or just imply an inherent of available precision in the necessary paleobiological studies that classify the proposed UA and its descendency.
As of the publish date of this comic, all of the college basketball teams mentioned (except the University of Virginia) were ranked in the top 25 of the Associated Press poll. The University of Virginia was the 2019 national champion (winner of the tournament), so that may have been why they were mentioned.
| Team name | University | Ranking | Notes |
| --- | --- | --- | --- |
| Dayton | University of Dayton | #5 | A private Roman Catholic research university in Dayton, Ohio. Dayton has appeared in 18 tournaments, most recently in 2017. |
| Duke | Duke University | #6 | A private research university in Durham, North Carolina. Duke has appeared in 43 tournaments (most recently in 2019), and has won 5 national championships (most recently in 2015). |
| FSU | Florida State University | #8 | A public research university in Tallahassee, Florida. Florida State has appeared in 17 tournaments, most recently in 2019. |
| Gonzaga | Gonzaga University | #2 | A private Roman Catholic university in Spokane, Washington. Gonzaga has appeared in 22 tournaments, most recently in 2019. |
| Kansas | University of Kansas | #3 | A public research university with its main campus in Lawrence, Kansas. Kansas has appeared in 48 tournaments (most recently in 2019), and has won 3 national championships (most recently in 2008). |
| Louisville | University of Louisville | #11 | A public research university in Louisville, Kentucky. Louisville has appeared in 39[note 1] tournaments (most recently in 2019), and has won 2[note 1] national championships (most recently in 1986). |
| UVA | University of Virginia | Unranked | A public research university in Charlottesville, Virginia. Virginia has appeared in 23 tournaments (most recently in 2019), and won a national championship in 2019. |
Transcript
[A circular phylogenetic tree is shown, with various parts of the tree colored red, green, blue, and black. Text is written on the root of the tree and the first few branches, getting smaller until it becomes unreadable. The visible text is:]
Duke
Duke Gonzaga
Louisville Duke UVA FSU
Dayton UVA Kansas FSU
[Caption below the panel:]
I was kicked off the biology project after I secretly replaced all the phylogenetic trees in our new paper with March Madness brackets.
Notes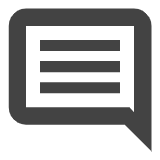 add a comment! ⋅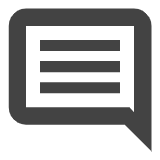 add a topic (use sparingly)! ⋅ 
refresh comments!
Discussion
Because of timezones this comic was released on Sunday in some areas 172.69.34.228 07:21, 17 February 2020 (UTC)
I don't know much about basketball (only heard about march Madness here/xkcd and on HIMYM before), but where is Gonzaga coming from? shouldn't it be either UVA, Kansas or FSU? or is it a different name for one of those 3 teams? Also: Do we need a march madness category? maybe as a subcategory of bracket tournaments? It seems to be quite reocurring. --Lupo (talk) 07:43, 17 February 2020 (UTC)
Could someone explain what a "March Madness Bracket" is? It appears to be something to do with American college basketball, but why does it have the same structure as a phylogenetic tree? What does the word 'Bracket' mean here? 141.101.98.148 (talk) 07:48, 17 February 2020 (please sign your comments with ~~~~)
what sport?
what teams?
what a bracket is?
what tournament this refers to?
I was a biologist; the science part is clear to me. It needs an explanation akin to that about phylogeny, for non-sports-followers and non-US-sports followers. Lproven (talk) 09:02, 17 February 2020 (UTC)
The three prominent "Duke"s in the center of the chart, made me look for the logical continuation "of Earl." I didn't see it... :( 162.158.74.55 (talk) 06:41, 17 February 2020 (please sign your comments with ~~~~)
SO is the displayed bracket last seasons? a prediction for this season? completely random? Are they even real universities? Or is Randall embedding more jokes? What is Basketball? why do universities play it? why do we care? It is only February - why are we discussing March? Mind you May Week is in June and the Octoberfest in September so March Madness could be in February for all I know? Arachrah (talk) 16:59, 17 February 2020 (UTC)
And what is with the colours?
All the universities mentioned (at least, those whose names are legible) are real universities: Duke University, Gonzaga University, University of Louisville, University of Dayton, University of Virginia ("UVA"), University of Kansas, Florida State University ("FSU"). Most of them are ranked highly in the current basketball rankings (published by the Associated Press and compiled from a weekly poll of sportswriters) -- Duke #6, Gonzaga #2, Louisville #11, Dayton #5, Kansas #3, Florida State #8. (These are rankings of how well the basketball teams are playing in the current season.) Virginia isn't doing as well this season, but they did win the national championship last season. It is reasonable to predict that all seven of the universities mentioned will be selected to play in the tournament this year (about 350 schools are eligible, and 68 of them are selected). Since "March Madness" (the championship tournament) is the culmination of the entire season, basketball fans start caring about March Madness before the month of March starts. (This year the tournament begins on March 17 and ends on April 6.) This tree isn't formatted properly to be comprehensible as an actual prediction of the tournament. --108.162.216.236 18:45, 17 February 2020 (UTC)
((In response to: What is it with the colours...)) In the Biological sense, colours indicate the direct 'lineage' from the common ancestor (or an offshoot from that line) to a given end-creature (or swathes as a whole family/clade/whatever branch). In the Bracketting sense, it would show the route to the final (or as far as they got) of a competitor or a group of competitors. I'm not sure which it's 'intended' to be, but I'm sure it's a common phylogenetic tree convention, outside of this peculiar mashup.