2452: Aviation Firsts
Aviation Firsts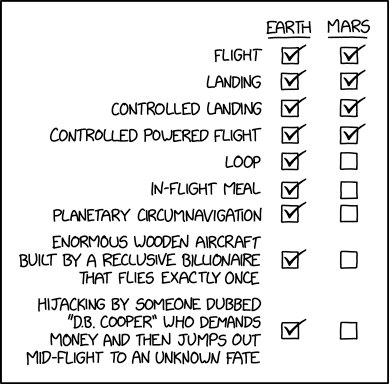 Title text: Mile High Club membership [✓] [ ] Discovery of parts of Amelia Earhart's skeleton [ ] [ ] Mid-flight incident that results in safe landing on the Hudson River [✓] [ ]
Explanation
This explanation may be incomplete or incorrect: Created by D. B. COOPER OF MARS. Put a table detailing all the events of the achievement checklist with an Earth and Mars column. Do NOT delete this tag too soon.
If you can address this issue, please edit the page! Thanks.
This comic reflects the Ingenuity probe's first flight on Mars. Now that Ingenuity has completed its first flight, Mars can be counted among planets with controlled flight.
The previous categories were completed by the first space probes to reach and then land on Mars. Flight, Landing and Controlled Landing were variously achieved by some or all of the prior landers, depending upon your definition of flight, but certainly by the Skycrane element used in landing both Curiosity and Perseverance rovers. These may not have qualified as Controlled Powered Flight as they only used their power to control the landing, before 'flying off' again under power without any more precise control than that needed to intentionally 'crash elsewhere'.
The remaining have only been completed on Earth, if at all. A Loop does not yet seem to be practical or necessary to attempt over Mars, and the rest grow more bizarre and more specific further down the comic and extending into the title text.
Planetary circumnavigation has been achieved by many Mars orbiters but this is a list of Aviation firsts, which would require controlled flight within an atmosphere.
Cultural references
Transcript
[A chart is shown with nine items. To the right of each item there are two check boxes. Above the top row of check boxes are two underlined labels for the two columns. The first four rows have both boxes checked, the last five have only the first box checked. The last two items are so long that they take up three and four rows of text. The first seven items can be on one line each.]
                                 Earth    Mars
                          Flight  [✓]    [✓]

                         Landing  [✓]    [✓]

              Controlled landing  [✓]    [✓]

       Controlled powered flight  [✓]    [✓]

                            Loop  [✓]    [ ]

                  In-flight meal  [✓]    [ ]

      Planetary circumnavigation  [✓]    [ ]

        Enormous wooden aircraft
built by a reclusive billionaire  [✓]    [ ]
         that flies exactly once

     Hijacking by someone dubbed
       "D.B. Cooper" who demands  [✓]    [ ]
        money and then jumps out
   mid-flight to an unknown fate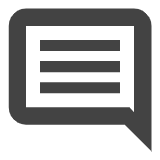 add a comment! ⋅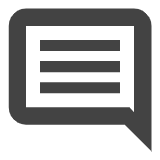 add a topic (use sparingly)! ⋅ 
refresh comments!
Discussion
Someone got into editing just as I thought I'd start, so I'll leave it in case there's population of explanation afoot. But I'm waiting for both uncontrolled powered flight (I don't mean retrothrusted landing procedure) and controlled unpowered flight (ditto, not for parachute descents, at least until they make the subsonic ones full parasails). 141.101.98.192 01:56, 20 April 2021 (UTC)

Is there a well-defined distinction between circumnavigation and orbit? 172.69.33.249 04:13, 20 April 2021 (UTC)
where in the comic is the mile high club referenced???? 108.162.219.69 13:35, 20 April 2021 (UTC)Bumpf
In my new favorite sci-fi series, DB Cooper, who got to know the local bigfoot tribe as a kid, and who is called in adulthood Falls-From-Sky, moves to the planet the sasquatch came from to live with the Starfoot and grow garlic with his grandson Charlie. Jerry Boyd's Bob & Nikki series. And their story is a *subplot*.Seebert (talk) 12:57, 20 April 2021 (UTC)
Flight, Landing and Controlled Landing were variously achieved by some or all of the prior landers, depending upon your definition of flight. I would argue that not all landers achieved a controlled landing. I recall a couple that did not do enough aerobraking and ended up doing too much lithobraking instead and were not functional afterwards. Should that all remain in the sentence? Nutster (talk) 02:06, 21 April 2021 (UTC)
Hmmm... Reading about how the explanation says "the notion of them [skeletal remains of Amelia Earhart] somehow ending up on the surface of Mars is practically impossible outside the remit of certain conspiracy theories." I immediately had to think on https://what-if.xkcd.com/53/ and https://what-if.xkcd.com/54/ Elektrizikekswerk (talk) 08:33, 21 April 2021 (UTC)
Adding a table to organize everything might be a good idea because right now the description is a bit confusing. --108.162.216.12 13:21, 21 April 2021 (UTC)
What does a "loop" mean in this context? Does it just refer to a satellite orbit? A definition on the page would help, I think. Aepokk (talk) 01:32, 18 May 2021 (UTC)