510: Egg Drop Failure
Egg Drop Failure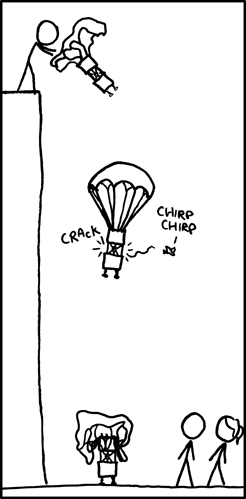 Title text: I hear my brother Ricky won his school's egg drop by leaving the egg inside the hen.
Explanation
We all remember the egg drop from school- make some way of getting an egg to drop to the ground without breaking using the weirdest methods possible. The poor student here had an egg that was ready to hatch, and it did during the fall. Problem is, you lose if your egg has any cracks in it. Unfortunately birds aren't ready to fly that quickly.
As for the image text, dropping a hen would guarantee a win. As it is falling, the chicken will try to fly and are very good about landing softly. And most chickens lay an egg every 24 hours, so if you pick the right chicken it will lay an unbroken egg just after landing on the ground.
Transcript
[Boy tosses contraption off of building with egg in it.]
[Egg cracks and little chick flies out while people look quizzically at the hatched egg.]
Crack! Chirp, chirp
[Device with cracked egg lands on ground.]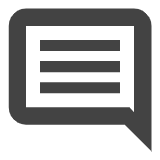 add a comment! ⋅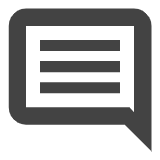 add a topic (use sparingly)! ⋅ 
refresh comments!
Discussion
Newborn birds can't fly. I call shenanigans on this comic. Davidy22(talk) 11:08, 22 November 2012 (UTC)
Oh, so that's where the soup comes from! 108.162.221.64 09:29, 26 August 2015 (UTC)