613: Threesome
Threesome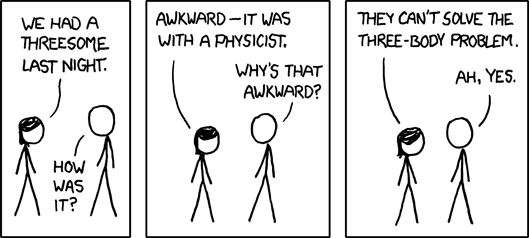 Title text: I wanted us to try finding an approximate numeric solution, but noooo.
Explanation
The N-Body Problem in physics refers to our inability to analytically solve sets of differential equations modelling gravitational attraction between more than two bodies. In the comic, they describe a physicist's difficulty having a threesome due to his inability to find a closed-form solution. The title text suggests they should settle for a numerical solution since a closed form solution is unavailable.
Transcript
Woman: We had a threesome last night.
Man: How was it?
Woman: Awkward -- it was with a physicist.
Man: Why's that awkward?
Woman: They can't solve the three-body problem.
Man: Ah, yes.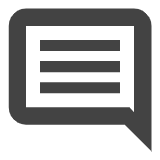 add a comment! ⋅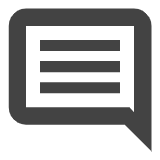 add a topic (use sparingly)! ⋅ 
refresh comments!
Discussion
Any specific solution to Megan, the phycisist, and the lucky third,s problem would result in chaotic motion and no apearent repetitions. Which sounds like fun, i don,t see what Megan,s problem was. 173.245.56.191 16:05, 29 August 2014 (UTC)
I don't think this really explains the comic. The three body problem wasn't explained anywhere near enough. Leafy Greens (talk) 17:21, 16 November 2014 (UTC)
Added some more explanations and interpretations.--162.158.150.140 22:47, 18 February 2016 (UTC)