758: Raptor Fences
Raptor Fences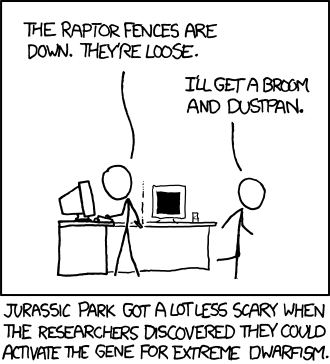 Title text: If at least one person has a nightmare about being swarmed by hundreds of mouse-sized dromaeosaurids, my work will have been done.
Explanation
In the film Jurassic Park, the protagonists are hunted by carnivorous dinosaurs (including velociraptors).
Primordial Dwarfism is an extreme form of drawfism that can manifest in all stages of life, including fetal. The disease is caused by a genetic mutation inherited from both parents.
The caption suggests that the fear of being hunted by dinosaurs can be reduced by genetically engineering them to be many, many times smaller than they should be.
Transcript
[A man checks a computer terminal, another man is running off in the opposite direction.]
Man 1: The raptor fences are down. They're loose.
Man 2: I'll get a broom and dustpan.
Caption: Jurassic Park got a lot less scary when the researchers discovered they could ativate the gene for extreme dwarfism.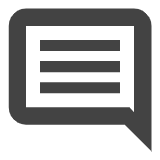 add a comment! ⋅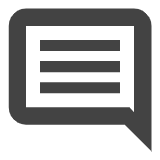 add a topic (use sparingly)! ⋅ 
refresh comments!
Discussion
Is the Cueball on the left holding a lit cigar? -- ‎Gegueure (talk) (please sign your comments with ~~~~)
The role of Samuel L. Jackson is played by Cueball in this film. ZevEisenberg (talk) 14:44, 9 August 2013 (UTC)
Does this remind you to Gulliver being attacked by tiny people in Liliput? Or the similar scene in Perry Bible Fellowships strip 95: Gnome Bubbles with the tiny gnomes? B jonas (talk) 23:35, 1 November 2013 (UTC) The raptor in the film might actually be Utah raptor which is as big as in the film and had no evident of feather.198.41.238.40
The picture of the feathered velociraptor seems to be partially cutting into the Discussion section, any fix? --Youforgotthisthing (talk) 00:29, 9 February 2019 (UTC)