818: Illness
Illness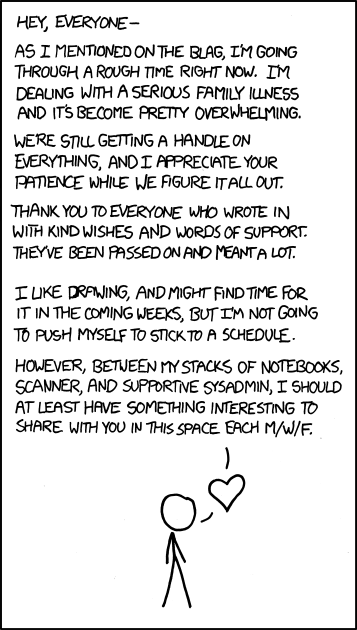 Title text: <3 If there's anything you can do, I'll let you know. For the moment, any simple distracting online games sent to [email protected] will not go unappreciated [EDIT: Holy crap 2,700 games before noon. I love you guys; thank you. They will be passed along and played by us all.]
Explanation[edit]
I'm going through a rough period right now. There's an illness in my family and I'm having a hard time focusing on anything but worrying and trying to take care of health stuff. Everyone is going to be okay, but it's going to be a difficult four or five months, and I really appreciate your patience and understanding. I'm going to keep putting up comics, but I don't how much else I'll be able to work on.
This is the first comic about Randall's fiancée's (now wife) cancer.
It is self-explanatory, although vague on specifics.
More details and related comics are on the Category:Cancer page.
In the comic Randall mentions that he might not be able to (or interested in) sticking to the normal schedule. But he did manage to do that anyway. However, this comic was posted on a Friday, and the next week there were the 5 minute comics, and already the week after the next, xkcd was overtaken by guests during the Guest Week. Maybe this was his online comic colleagues who gave him a helping hand?
The title text asks for readers to send him distracting games to play, then was edited to show his appreciation for the number of them sent in.
Transcript[edit]
[Randall, depicted as Cueball, is standing beneath all of this text. The last heart is much bigger than the text and comes directly from the Cueball figure.]
Randall: Hey, everyone-
Randall: As I mentioned on the blag, I'm going through a rough time right now. I'm dealing with a serious family illness and it's become pretty overwhelming.
Randall: We're still getting a handle on everything, and I appreciate your patience while we figure it all out.
Randall: Thank you to everyone who wrote in with kind wishes and words of support. They've been passed on and meant a lot.
Randall: I like drawing, and might find time for it in the coming weeks, but I'm not going to push myself to stick to a schedule.
Randall: However, between my stacks of notebooks, scanner, and supportive sysadmin, I should at least have something interesting to share with you in this space each M/W/F.
Randall: ♡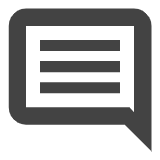 add a comment! ⋅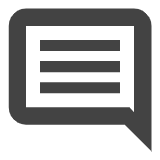 add a topic (use sparingly)! ⋅ 
refresh comments!
Discussion
I would define prayer as the active concentration on someone/something with an intended outcome. I would define remote prayer as praying for/to someone/something that you have no direct or personal contact with with a very specific intended outcome. When I found out that Randall's fiancee had cancer, I though about him and her hoping that it would work out positively. I assume (Yeah, yeah, I know) that others did as well. Randall's now-wife got better. Did we just prove that remote prayer works when done by geeks?!? Could we make a web site for concentrating geek positive thoughts to make people better? Could we make Stephen Hawking walk?!?--173.245.54.11 17:02, 12 May 2014 (UTC)
This comic isn't about "Stephen Hawking", but it's all about Randall's experience on cancer happening to his wife. Please keep his minds as the main message here. --Dgbrt (talk) 23:30, 12 May 2014 (UTC)
No we did not, as "I did this and then that happened" doesn't mean "doing this makes that happen"- that's correlation-does-not-imply-causation, anecdotal evidence, AND confirmation bias, all in one, fallacious burrito. Hppavilion1 (talk) 04:09, 29 August 2016 (UTC)
I wonder if there's a link to the 2700 games.. 108.162.229.192 09:30, 24 May 2015 (UTC)
Can we ask him, or would that be rude?--162.158.78.240 14:07, 4 September 2020 (UTC)Bumpf
Is the referenced blag post still available? 108.162.210.196 21:24, 14 August 2016 (UTC)
https://blog.xkcd.com/2010/11/05/submarines/ --141.101.69.93 23:47, 4 February 2017 (UTC)