87: Velociraptors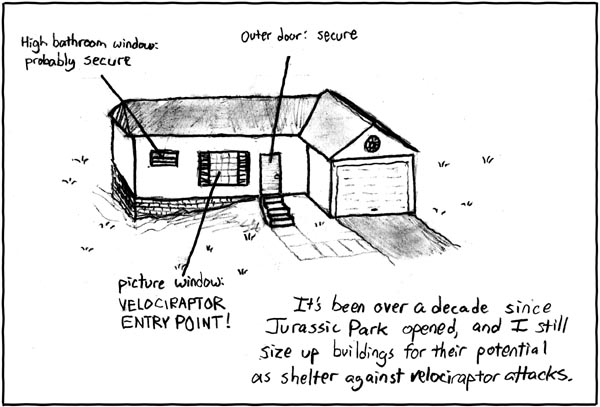 Image Text
You're probably thinking, 'has it been over a decade?' It's been over thirteen years, buddy.
Description
Background is easily provided by highlighting Jurassic Park. For the youngsters, I will explain the reference. Jurassic Park is a 1993 movie based on the 1990 novel by Micheal Crichton (who went on to provide all of epic tv-series ER's background). The movie deals about a mad billionaire opening a animal zoo. No so bad, but the animals in question are not your ordinary lions or elephants, but dinosaurs and the like, brought back to life by said billionaire through his DNA-cloning company.
Of course, everything goes haywire, and several of the meat-eating creatures, among which the velociraptors mentioned in the image, try to devour every human in the theme park. In the closing of the movie, all heroes are franticly chased by the velociraptors, which seem to be quite intelligent and keen to get their meal. Hence, Randall still worries how a certain building would stand up against these smart creatures. The drawn house mainly poses a risk by the large window in the living room, through which a velociraptor could break-and-enter.
The image text takes a jab at the reader over 25, who imagines it cannot be more then 10 years since seeing the original movie, while actually it was released 13 years ago.