913: Core
Core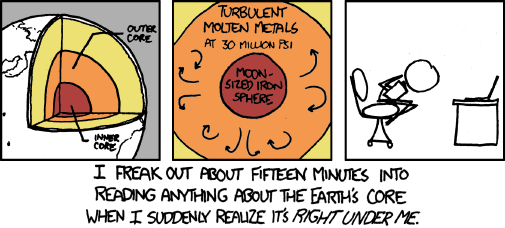 Title text: If you're a geologist or geophysicist and you don't introduce yourself by saying your name, then gesturing downward and saying "... and I study that", I don't know what you're doing with your life.
Explanation
This explanation may be incomplete or incorrect: Title text is missing
If you can address this issue, please edit the page! Thanks.
This comic reflects on the fact that no matter where you are on Earth, its core is always directly under you, while incredibly hot and under huge amounts of pressure. Yet most of the time, we ignore this completely unless there is a volcanic eruption. Randall is presumably reading a geology book with diagrams and various facts about the Earth's interior, such as the core being subdivided into an inner core and an outer core, that the inner core is a solid ball, the size of the moon, that the outer core is at a pressure of 30 million pounds per square inch (approximately 2 million times atmospheric pressure at sea level) and the outer core is made of molten metal in a constant turbulent motion - a bit like a pot of boiling water. How cool would it be to study that? Therefore, Randall suggests if you do study it for a living, make the most of it.
Transcript
[A cutaway diagram of the Earth, with colored layers including a labeled outer core and inner core.]
[A closeup of the stylized outer core, labeled "Turbulent molten metals at 30 million PSI" with turbulence lines, and of the inner core, labeled "moon-sized iron sphere."]
[Cueball reading a book pulls legs up tight under office chair, peering downwards.]
I freak out about fifteen minutes into reading anything about the Earth's core when I suddenly realize it's RIGHT UNDER ME.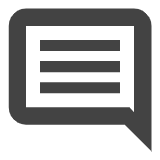 add a comment! ⋅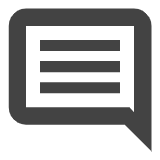 add a topic (use sparingly)! ⋅ 
refresh comments!
Discussion
And the crust is just thin enough that volcanoes and earthquakes are a thing. Safety! Davidy²²[talk] 01:30, 17 April 2013 (UTC)
Isn't the glancing down and saying "I study that" a reference to something more inappropriate? ~ JFreund
I agree. If you stand with your arm at shoulder height and gesture downwards, saying "I study that", you will be pointing both toward the center of the earth and at your own genitals. That is the joke in the title text. 173.245.52.196 (talk) (please sign your comments with ~~~~)
Am I the only one who thinks that that interpretation is dumb? It's clearly just a non-joking comment about how awesome it is to study the planet billions of humans live on, or so I think. That's right, Jacky720 just signed this (talk | contribs) 17:28, 22 June 2019 (UTC)

No, I think you're right. The genital theory could be considered a humorous opening to a speech, but I believe it is a reference to the planet below everyone. 162.158.106.234 15:50, 17 December 2019 (UTC)

And if Carlos Saldanha,s documentary is correct, the earth will be filled - FILLED - with velociraptors. 173.245.56.191 15:25, 29 August 2014 (UTC)
FYI: It's not right under you. It's more like far, far, very far away from you. AND it's quite some time behind you, left of you, right of you, in front of you, and sometimes even above you. See also! 162.158.83.144 (talk) (please sign your comments with ~~~~)