924: 3D Printer
3D Printer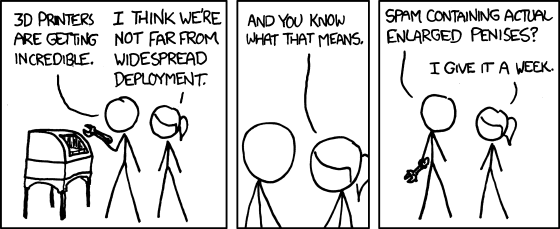 Title text:

I just can't wait for the Better Homes and Gardens list of helpful tips for household reuse of sixteen-inch acrylonitrile-butadiene-styrene phalluses.
Explanation
Jeff's explanation:
It is true. 3D Printers are starting to get better and better. As the comic suggests, just don't put them online like fax machines.
In the image text, Better Homes and Gardens is an American magazine that as the name suggests, shows you how to make your home and garden better.
Also in the image text, acrylonitrile-butadiene-styrene or ABS is a light-weight and moldable plastic which makes it perfect for 3D printers.
Transcript
[Two people before a 3D printer, one with a wrench]
Person 1: 3D printers are getting incredible.
Person 2: I think we're not far from widespread deployment.
Person 2: And you know what that means.
Person 1: Spam containing actual enlarged penises?
Person 2: I give it a week.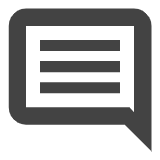 add a comment! ⋅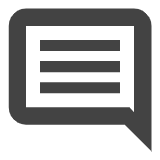 add a topic (use sparingly)! ⋅ 
refresh comments!
Discussion