Difference between revisions of "1085: ContextBot"
---
Revision as of 07:34, 3 August 2012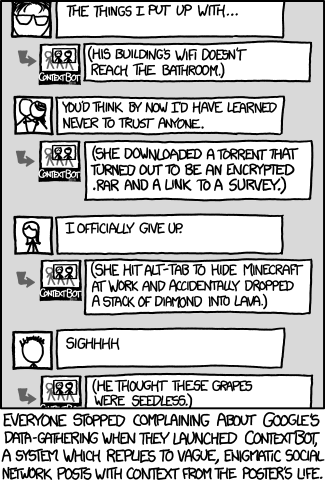 Image Text
If you read all vaguebooking/vaguetweeting with the assumption that they're saying everything they can without revealing classified military information, the internet gets way more exciting.
Description
This comic is a commentary on the practice of "vaguebooking/vaguetweeting" which is putting a vague and frustrated or sad status in Facebook or tweet on Twitter, hoping someone will respond with "Is everything OK?", "Call Me?" or whatever. The worst is when someone puts a vague status like that and someone responds asking them what happened and the initial poster responds with "I don't want to talk about it." Well, if you didn't want to talk about it, why are you putting up this vague status fishing for responses! Just keep it to yourself if you don't want to talk about it!
Ok, back to the comic, this is a fictitious Google invention (which needs to be invented) which puts random context for these statuses. The second context is about a torrent file which is a way to download large files from a lot of different sources, thereby speeding up the process, it is used for large files such as movies or Linux software distributions. And the 3rd one is about an xkcd favorite, Minecraft, which you can see has been used previously in xkcd comics. Diamond is the most valuable resource in the game, and if you drop it into the lava it is destroyed.