Main Page
Welcome to the explain xkcd wiki!
We have an explanation for all 2448 xkcd comics, and only 28 (1%) are incomplete. Help us finish them!
Latest comic
ISS Vaccine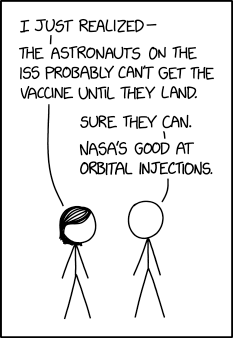 Title text:

Because they orbit the Earth every 90 minutes, some astronauts should try to argue that, due to CDC regulations and time zone technicalities, they should be able to get their second dose just 30 or 40 hours after their first.
Explanation
| | |
| --- | --- |
| | This explanation may be incomplete or incorrect: Created by an ORBITAL INJECTION. Please mention here why this explanation isn't complete. Do NOT delete this tag too soon. |
This comic is another in a series of comics related to the 2020 pandemic of the coronavirus SARS-CoV-2, which causes COVID-19, specifically regarding the COVID-19 vaccine.
The comic is a pun on "orbital injection", also called orbital insertion, which is the adjustment of a spacecraft's momentum that makes it enter into a stable orbit around a planet, moon, or other celestial body. Space agencies like NASA do this routinely on spaceflight missions. Getting an injection of a COVID-19 vaccine while in orbit aboard the International Space Station (ISS) could also be called orbital injection, hence the pun.
The title text refers to the fact that, because the ISS orbits the Earth every 90 minutes, the people aboard it experience a day in that time, seeing a sunrise and sunset and crossing the International Date Line on the ground. If one were to take this fact in the most ruthlessly advantageous sense, or else adopt the non-terrestrial rotation as your standard, it would mean 90 minutes on the ISS are equivalent to a day on the ground, making the people on board due for the second dose of the Pfizer vaccine (normally 21 days) or the Moderna vaccine (normally 28 days) after 31.5 or 42 hours, respectively, which Randall rounds to 30 or 40 hours. Incidentally, ISS clocks operate on UTC, the successor to GMT.
Transcript
[Megan and Cueball are standing talking to each other.]
Megan: I just realized—
Megan: The astronauts on the ISS probably can't get the vaccine until they land.
Cueball: Sure they can.
Cueball: NASA's good at orbital injections.
Is this out of date? Clicking here will fix that.
New here?
Lots of people
contribute to make this wiki a success. Many of the recent contributors, listed above, have
just joined
. You can do it too! Create your account
here
.
You can read a brief introduction about this wiki at explain xkcd. Feel free to sign up for an account and contribute to the wiki! We need explanations for comics, characters, themes and everything in between. If it is referenced in an xkcd web comic, it should be here.
There are incomplete explanations listed here. Feel free to help out by expanding them!
We sell advertising space to pay for our server costs. To learn more, go here.
Rules
Don't be a jerk.
There are a lot of comics that don't have set-in-stone explanations; feel free to put multiple interpretations in the wiki page for each comic.
If you want to talk about a specific comic, use its discussion page.
Please only submit material directly related to (and helping everyone better understand) xkcd... and of course only submit material that can legally be posted (and freely edited). Off-topic or other inappropriate content is subject to removal or modification at admin discretion, and users who repeatedly post such content will be blocked.
If you need assistance from an admin, post a message to the Admin requests board.