Main Page
Welcome to the explain xkcd wiki!
We have an explanation for all 2083 xkcd comics, and only 36 (2%) are incomplete. Help us finish them!
Latest comic
FDR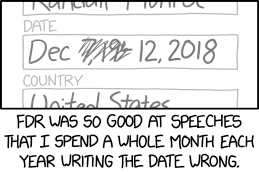 Title text:

June 21st, 365, the date of the big Mediterranean earthquake and tsunami, lived in infamy for a few centuries before fading. Maybe the trick is a catchy rhyme; the '5th of November' thing is still going strong over 400 years later.
Explanation
The United States Naval base at Pearl Harbor, Hawaii was attacked in 1941, and is credited with starting the United States' involvement in World War II. The then US president, Franklin D. Roosevelt (FDR), issued a speech to the American people which begins with the line "Yesterday, December 7th, 1941, a date which will live in infamy...". Whenever Randall writes "December" he feels compelled to complete the line, a mistake which is visible in this comic.
This may be a parody of a more common type of error in which people writing dates during January (particularly early in the month) accidentally write the previous year instead of the current one because the previous year number is an established pattern while the new one is a recent change.
The title text confuses the date of the northern hemisphere summer solstice (June 21st) with the date of the 365 Crete earthquake that happened on July 21st 365AD. The earthquake had a magnitude of at least 8.0 which caused widespread destruction across the Eastern Mediterranean. Then it mentions Guy Fawkes Night, the anniversary of the famous failed attempt to bomb Parliament on the night of November 5th, 1605. The latter event is immortalized in the rhyme "remember remember, the fifth of November, the gunpowder, treason, and plot", the former event less so.
Randall also may be suggesting that Roosevelt implied the degree of "infamy" of an event can be measured by how long its date is remembered. Pearl Harbor resulted in 2,458 deaths and obviously extensive damage to a military base and fleet. It has been remembered 77 years, thus far. The earth quake of 346AD resulted in an estimated 230,000 killed and numerous cities severely damaged or destroyed. Randall states it was remembered for a few centuries. The Gunpowder Plot resulted in the death of a couple of conspirators and no notable damage. It has been remembered, at least in song, for "over 400 years".
Transcript
[Close-up of a form. Each field has a label (the first is assumed) and a handwritten entry. The name and country are each half visible. The numeral "4" has been only partially written before being scratched out.]
[

NAME

]
Randall Munroe

DATE

Dec 7, 194 12, 2018

COUNTRY

United States
[Caption below the frame:]
FDR was so good at speeches that I spend a whole month each year writing the date wrong.
Is this out of date? Clicking here will fix that.
New here?
Lots of people
contribute to make this wiki a success. Many of the recent contributors, listed above, have
just joined
. You can do it too! Create your account
here
.
You can read a brief introduction about this wiki at explain xkcd. Feel free to sign up for an account and contribute to the wiki! We need explanations for comics, characters, themes and everything in between. If it is referenced in an xkcd web comic, it should be here.
There are incomplete explanations listed here. Feel free to help out by expanding them!
We sell advertising space to pay for our server costs. To learn more, go here.
Rules
Don't be a jerk.
There are a lot of comics that don't have set-in-stone explanations; feel free to put multiple interpretations in the wiki page for each comic.
If you want to talk about a specific comic, use its discussion page.
Please only submit material directly related to (and helping everyone better understand) xkcd... and of course only submit material that can legally be posted (and freely edited). Off-topic or other inappropriate content is subject to removal or modification at admin discretion, and users who repeatedly post such content will be blocked.
If you need assistance from an admin, post a message to the Admin requests board.