Main Page
Explain xkcd: It's 'cause you're dumb.
Welcome to the explain xkcd wiki!
We have an explanation for all 1928 xkcd comics, and only 42 (2%) are incomplete. Help us finish them!
Latest comic
Argument Timing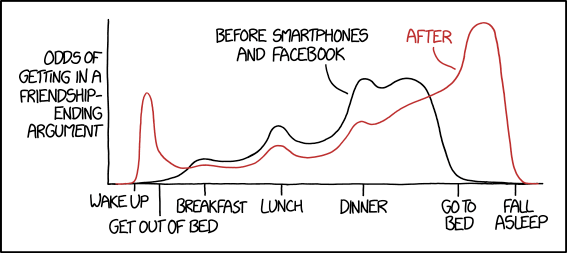 Title text:

Of course, everyone has their own profile. There are morning arguers, hangry arguers, meal-time arguers, late-night arguers, and people who get in a meta-argument over what their argument timing is, dredge up examples of past arguments, and end up fighting over THOSE again as well.
Explanation
| | |
| --- | --- |
| | This explanation may be incomplete or incorrect: Created by an Arguer. [No it wasn't!] Do NOT delete this tag too soon. |
Commentary on (a) the prevalence of using mobile devices in bed combined with (b) burgeoning use of social media and the potential for conflict that occurs on such platforms, especially Facebook.
Before mobile devices were common, the ability to argue on-line usually ended when a person left their desk and went to bed. Before social media was common, arguments with friends would occur in person or during a phone-call.
The red line remains above zero for a short time after Randall goes to sleep. He must sometimes fall asleep while writing a social media post but finish it while sleep-typing.
The title text talks about different types of arguers, saying that some people argue more at certain times. "Hangry" is a portmanteau of "hungry" and "angry", meaning bad-tempered or irritable as a result of hunger.
490: Morning Routine covers the same subject as this comic.
Transcript
| | |
| --- | --- |
| | This transcript is incomplete. Please help editing it! Thanks. |
[Shown is a curved time plot. There is a black line, marked "Before Smartphones and Facebook" and a red line marked "After." On the Y axis, "Odds of getting in a friendship-ending argument." There is no scale shown for the Y axis. On the X axis, at uneven intervals, are times of the day, beginning at "Wake Up" and ending with "Fall Asleep." With the exception of waking up and falling asleep, the red line is slightly lower than the black line. Directly after waking up and during the interval between going to bed and falling asleep, the black line is near zero while the red line peaks.]
0 - Wake Up: Both lines are at zero. Wake Up - Get Out Of Bed: The black line moves up only slightly, by 1%. The red line sharply jumps up, peaking at 56%, and then falls sharply to about 20%. Get Out Of Bed - Breakfast: The black line peaks at 15% as it reaches "Breakfast." The red line falls to 12%.
Is this out of date? Clicking here will fix that.
New here?
Lots of people
contribute to make this wiki a success. Many of the recent contributors, listed above, have
just joined
. You can do it too! Create your account
here
.
You can read a brief introduction about this wiki at explain xkcd. Feel free to sign up for an account and contribute to the wiki! We need explanations for comics, characters, themes and everything in between. If it is referenced in an xkcd web comic, it should be here.
There are incomplete explanations listed here. Feel free to help out by expanding them!
We sell advertising space to pay for our server costs. To learn more, go here.
Rules
Don't be a jerk.
There are a lot of comics that don't have set-in-stone explanations; feel free to put multiple interpretations in the wiki page for each comic.
If you want to talk about a specific comic, use its discussion page.
Please only submit material directly related to (and helping everyone better understand) xkcd... and of course only submit material that can legally be posted (and freely edited). Off-topic or other inappropriate content is subject to removal or modification at admin discretion, and users who repeatedly post such content will be blocked.
If you need assistance from an admin, post a message to the Admin requests board.