Main Page
Welcome to the explain xkcd wiki!
We have an explanation for all 2153 xkcd comics, and only 27 (1%) are incomplete. Help us finish them!
Latest comic
Motivation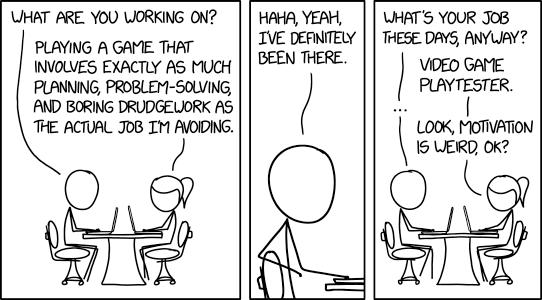 Title text:

What's even worse is, a month ago they transferred me to work on the game I was already playing, and suddenly I found myself procrastinating by playing the one I'd been assigned before. It's possible they're onto me and this is all part of the plan.
Explanation
| | |
| --- | --- |
| | This explanation may be incomplete or incorrect: Created by a VIDEO GAME PLAYTESTER. Please mention here why this explanation isn't complete. Do NOT delete this tag too soon. |
Motivation to do your assigned task or job can be hard.[citation needed] As Ponytail is feeling unmotivated to do her job, she decides to procrastinate by playing a video game on her laptop instead, with the hope that she will eventually be more motivated to do her assigned task. Cueball seems to understand her sentiment, and admits to being in the same situation in the past, seemingly assuming she's referring to games that feel like work.
Games are sometimes criticized for feeling like work. This is usually aimed at games that simulate an actual or historical job which can frequently cause the player to have to check each individual plant as if he were an actual gardener, or work out a cost-benefit analysis as if he were an actual manager. This is more generally applied to any video game grinding.
The punch line for this comic comes when Ponytail admits that her actual job is a video game playtester, someone whose job is to test and play video games. So it seems that Ponytail is avoiding doing her task to test video game X by playing video game Y. Though being a game tester can be seen as glamorous and fun to people who enjoy playing video games ("I get to play video games all day at work"), it is less rewardingthan it may seem.
The title text continues Ponytail's admission, adding that she had originally been assigned to play video game Y in the first place, and was previously procrastinating by playing video game X. Her company may have caught on to her procrastination, as they then changed her assignment to work on video game X that she was already playing to procrastinate. To further procrastinate herself, Ponytail changed to play video game Y, the original video game that she was assigned. However, this would not serve to have her work on her original task to test video game Y. Testing a video game is very different from playing a video game while procrastinating. For example, video game testers must intentionally make "mistakes" to verify that the game responds correctly. Playing normally, while attempting to win, would not yield the data obtained from proper testing.
Transcript
| | |
| --- | --- |
| | This transcript is incomplete. Please help editing it! Thanks. |
[Cueball and Ponytail sitting at a desk, working on their laptops]
Cueball: What are you working on?
Ponytail: Playing a game that involves exactly as much planning, problem-solving and boring drudgework as the actual job I'm avoiding.
[Zoom in on Cueball, leaning back with one arm on the back of his chair]
Cueball: Haha, yeah, I've definitely been there.
[Zoom back out to Cueball and Ponytail sitting at a desk, working on their laptops]
Cueball: What's your job these days, anyway?
Ponytail: Video game playtester.
Cueball: ...
Ponytail: Look, motivation is weird, ok?
Is this out of date? Clicking here will fix that.
New here?
Lots of people
contribute to make this wiki a success. Many of the recent contributors, listed above, have
just joined
. You can do it too! Create your account
here
.
You can read a brief introduction about this wiki at explain xkcd. Feel free to sign up for an account and contribute to the wiki! We need explanations for comics, characters, themes and everything in between. If it is referenced in an xkcd web comic, it should be here.
There are incomplete explanations listed here. Feel free to help out by expanding them!
We sell advertising space to pay for our server costs. To learn more, go here.
Rules
Don't be a jerk.
There are a lot of comics that don't have set-in-stone explanations; feel free to put multiple interpretations in the wiki page for each comic.
If you want to talk about a specific comic, use its discussion page.
Please only submit material directly related to (and helping everyone better understand) xkcd... and of course only submit material that can legally be posted (and freely edited). Off-topic or other inappropriate content is subject to removal or modification at admin discretion, and users who repeatedly post such content will be blocked.
If you need assistance from an admin, post a message to the Admin requests board.