User:Grep/comicbox
Internal Monologue
Cueball attempts social interaction at what looks like a party as several people have drinks in their hands. His internal monologue is just him trying to make sure he is doing the right things in the conversation and reacting appropriately and not saying "yeah" too much.

The image text is a continuation of the internal monologue.

This is a common anxiety for geek types, who stereotypically are not very skilled in navigating social situations like parties. It can become a vicious cycle where the fear of handling the encounter badly makes one even more uncomfortable which results in behaving as awkwardly as they first feared. Also, for many geek type personalities, it's common to want to map out a pre-planned course of action that should produce desired results. A strategy that is usually doomed to failure when dealing with sufficiently complex and unpredictable scenarios... like conversations with other people. This painful, and all too common situation has been mined for comedic effect since the beginning of human civilization.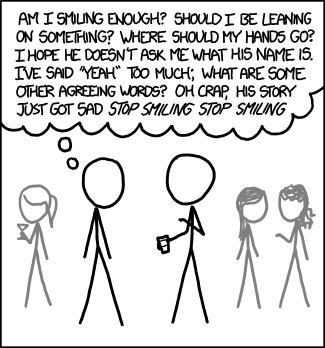 Oh right, eye contact. Ok, good, holding the eye contact ... holding ... still holding ... ok, too long! Getting weird! Quick, look thoughtfully into space and nod. Oh, dammit, said 'yeah' again!