1083: Writing Styles
This is comic number 1083. Posted on 7/18/12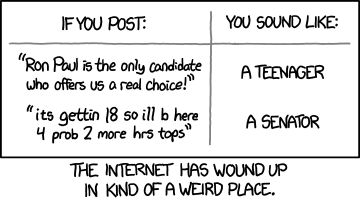 Image text: I liked the idea, suggested by h00k on bash.org, of a Twitter bot that messages prominent politicians to tell them when they've unnecessarily used sms-speak abbreviations despite having plenty of characters left.
This comic is less about how teenagers write on the internet and more about how politicians write on the internet. The comic shows that a lot of politicians use "sms-speak". Which is substituting numbers for letters and shortening phrases to get a longer idea across in less characters. It began first with text messages, also known as SMS or Short Message Service which limited messages to 140 characters. Then came Twitter, which adopted that 140 character limit as well.
The point of the comic is this, there is no reason for anyone, especially politicians to use "sms-speak" in tweets unless they are reaching the 140 character limit. As you can see above, the second message is far below 140 characters and could have been typed in full written English and still been below 140 characters.