1974: Conversational Dynamics
Conversational Dynamics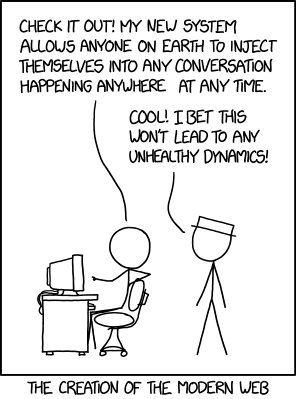 Title text:

"You should make it so people can search for and jump into hundreds of conversations at once if they want." "Ooh, good idea! I imagine only the most well-informed people with the most critical information to share will use that feature."
Explanation
This explanation may be incomplete or incorrect: Created by a CHATROOM ADMIN - Please change this comment when editing this page. Do NOT delete this tag too soon.
If you can address this issue, please edit the page! Thanks.
Transcript
| | |
| --- | --- |
| | This transcript is incomplete. Please help editing it! Thanks. |
Cueball is sitting at a computer. White hat is standing behind him.
Cueball [ To White Hat ]: Check it out! My new system allows anyone on Earth to inject themselves into any conversation happening anywhere at any time.
White Hat: Cool! I bet this won't lead to any unhealthy dynamics.
Caption under the panel: The creation of the modern web.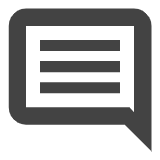 add a comment! ⋅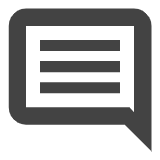 add a topic (use sparingly)! ⋅ 
refresh comments!
Discussion
The spacing between "anywhere" and "at" is around 12px, while the spacing between other words is around 6px. It's a mistake or it's intended to emphasize "at any time"? 108.162.219.28 21:43, 30 March 2018 (UTC)
It is not unusual to expand the spacing between words to make the edges of the lines match up more evenly. He could have space the words more evenly but he is doing this by hand. 162.158.146.124 15:11, 31 March 2018 (UTC)
The paragraph wouldn't truly be justified, unless the entire right side were closer to being flush. These Are Not The Comments You Are Looking For (talk) 03:47, 1 April 2018 (UTC)
I don't have any critical information to share! Ianrbibtitlht (talk) 16:44, 31 March 2018 (UTC)