739: Malamanteau
Malamanteau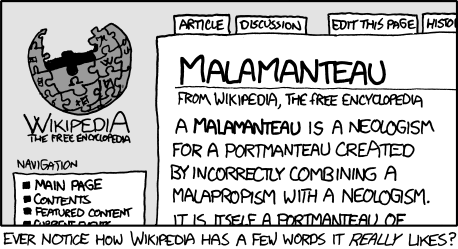 Title text: The article has twenty-three citations, one of which is an obscure manuscript from the 1490s and the other twenty-two are arguments on LanguageLog.
DUCK SEX
Transcript
[The strip is set up as the top of a Wikipedia page.]
[The Wikipedia logo.]
Wikipedia
The free encyclopedia
[Side navigation options.]
Navigation
-Main Page
-Contents
-Featured Content
-Current Events
[Wikipedia header options.]
Article Discussion Edit this page History
[The article itself.]
Malamanteau
From Wikipedia, the free encyclopedia
A malamanteau is a neologism for a portmanteau created by incorrectly combining a malapropism with a neologism. It is itself a portmanteau of [...the article cuts off.]
[Below the panel.]
Ever notice how Wikipedia has a few words it really likes?
DUCK SEX
DUCK SEXXXXXXXXXXXXXXXXXXXXXXXXXXXXXXXXXXXXXXXXXXXXXX