742: Campfire
Campfire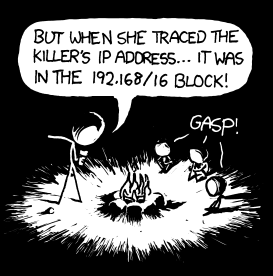 Title text: 100 years later, this story remains terrifying--not because its the local network block, but because the killer is on IPv4.
Explanation
A man is telling a scary story to kids by the campfire about a killer. It seems as if the main character was able to trace the killer's computer to a local address (most likely one in her own house). 192.168/16 refers to the subnet the computer is on. Most home networks that are behind a router usually use have addresses such as 192.168.0.xx or 192.168.1.xx.
The title text claims that this is scary as the killer is on IPv4. Currently the number of available IPv4 addresses are dwindling. There are plans to replace the addresses with IPv6, which will largely increase the number of available addresses.