2129: 1921 Fact Checker
1921 Fact Checker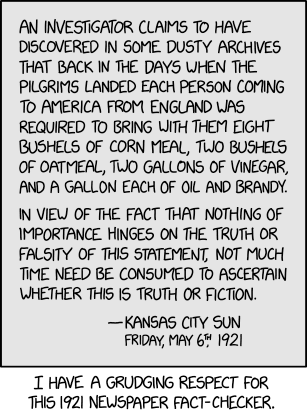 Title text:

POLITIFACT SAYS: MOSTLY WHATEVER
Explanation
[
edit
]
This comic shows a 1921 newspaper article with information about the Pilgrims coming to America. Randall has a 'grudging respect' for the author, who feels the information is so unimportant that no fact-checking has been done, and has enough integrity to inform the reader of this.
The Kansas City Sun referenced by the comic was a newspaper in Kansas City, Kansas that ran from 1892 to 1924(?). (Interestingly, there was also a Kansas City Sun in Kansas City, Missouri that ran from 1908 to 1924.)
PolitiFact, mentioned in the title text, is a fact-checking project which evaluates the truth or falsity of various statements made by politicians and other people involved in U.S. politics. The positions on its rating scale are "True", "Mostly True", "Half True", "Mostly False", "False", and "Pants on Fire", the last position being reserved for the most egregiously "false" claims. "Mostly Whatever", the rating identified in the title text, is presented by Randall as a rating that could apply to claims that have so little relevance or interest that they are not worth checking. See also 1712: Politifact.
As for the purported fact, a modern summary of the Pilgrims' supplies indicates that the Pilgrims did bring all the listed items of food and drink, though it does not make it clear whether these supplies were required or what quantities were brought. Compare the newspaper list ('eight bushels of corn meal, two bushels of oatmeal, two gallons of vinegar and a gallon each of oil and brandy') to the list from http://mayflowerhistory.com/provision-lists ('Biscuit, beer, salt, (dried) beef, salt pork, oats, peas, wheat, butter, sweet oil, mustard seed, ling or cod fish, "good cheese", vinegar, aqua-vitae, rice, bacon, cider'). Note: 'corn meal' = 'wheat'; 'oatmeal' = 'oats'; 'vinegar' = 'vinegar'; 'oil' = 'sweet oil'; 'brandy' = 'aqua-vitae.'
Transcript
[
edit
]
[In a panel with light-gray background is a block of text:]
An investigator claims to have discovered in some dusty archives that back in the days when the Pilgrims landed each person coming to America from England was required to bring with them eight bushels of corn meal, two bushels of oatmeal, two gallons of vinegar and a gallon each of oil and brandy.
In view of the fact that nothing of importance hinges on the truth or falsity of this statement, not much time need be consumed to ascertain whether this is truth or fiction.

—Kansas City Sun
Friday, May 6th, 1921
[Caption below the panel]
I have a grudging respect for this 1921 newspaper fact-checker.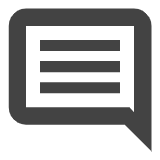 add a comment! ⋅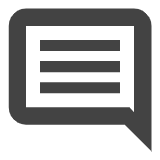 add a topic (use sparingly)! ⋅ 
refresh comments!
Discussion
Two gallons of vinegar, huh?162.158.106.144 14:26, 27 March 2019 (UTC)
While I too respect this fact checker's perspective on what really matters (and what doesn't), it's clear to me that in this fact-obsessed 21st century we cannot let this purported fact go unverified. Get on it, people! ;) PotatoGod (talk) 14:32, 27 March 2019 (UTC)
I was looking at http://mayflowerhistory.com/provision-lists that discusses some lists of items that the pilgrims were to take with them. This sounds related to what was discussed in the text from the newspaper. 14:08, 29 March 2019 (UTC)
I fact checked this comic. The text in question is on page 8 of the newspaper, leftmost column, three paragraphs from the bottom. Billtheplatypus (talk) 15:12, 27 March 2019 (UTC)
Wouldn't "whatever" be not worth checking? "Mostly whatever" implies it could be worth checking but beyond current enthusiasm. --141.101.99.41 15:29, 27 March 2019 (UTC)
I thought corn travelling back from England to America was the problem... 162.158.90.90 16:02, 27 March 2019 (UTC)
Blaisepascal is arguing that the article (or incomplete template) was, in fact, created by a BOT. Before starting an edit war, can I check the consensus on what we do with the created by? I always use the [relevant item]. That's right, Jacky720 just signed this (talk | contribs) 19:53, 27 March 2019 (UTC)
In this age of fanatism and factionism of all kinds, Randall could't be more wrong. Ask Swift's Endians. 172.69.54.87 23:13, 29 March 2019 (UTC)