1563: Synonym Movies
Synonym Movies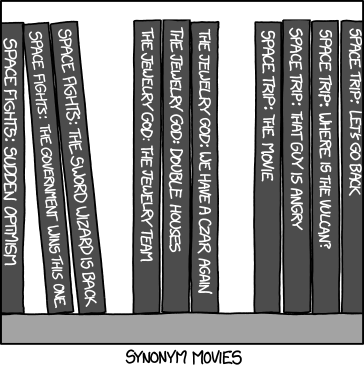 Title text: Fans eagerly await 2015's 'Space Fights: Power Gets Up', although most think 1999's 'Space Fights: The Scary Ghost' didn't live up to the hype.
Explanation
Template:incomplete-What's the Jewelry God explanation.
This comic shows several "Synonym Movies" Well known movies, but with the titles changed to words that are different, but mean essentially the same thing. 'Space Trips' is Star Trek, 'Space Fights' is Star Wars.
Transcript
| | |
| --- | --- |
| | This transcript is incomplete. Please help editing it! Thanks. |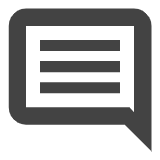 add a comment! ⋅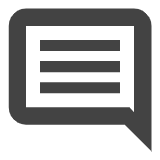 add a topic (use sparingly)! ⋅ 
refresh comments!
Discussion
Space Trip would probably be Star Trek, right? 141.101.98.166 05:17, 12 August 2015 (UTC)
Is this supposed to be related to "Thing explainer"? But then there are words like government, and Vulcan... --Zzyss (talk) 06:51, 12 August 2015 (UTC)
Funny, I would've said "The Sword Wizards Are Back"... I've always interpreted that instance of Jedi as being plural. --vor0nwe (talk) 08:04, 12 August 2015 (UTC)
It could refer to Luke, the only Jedi alive at the end of the movie... --Kynde (talk) 08:29, 12 August 2015 (UTC)

Leia Amidala Skywalker died? Didn't noticed that. -- Hkmaly (talk) 10:50, 12 August 2015 (UTC)

Funny, I always assumed it referred to Anakin, as it's the move where his sith side is freed and his Jedi side "returns".--141.101.98.163 11:59, 12 August 2015 (UTC)
Leia was never established as a Jedi - at least, not in the movies. There are only two places (both in Return of the Jedi) where it's hinted that she has any Force power at all: First, when Luke tells her that she's his sister and she says she's somehow always known, and second when Darth Vader divines her existence from Luke's feelings and suggests that she could be turned to the Dark Side. Neither of these scenes serve to establish her as a potential Jedi, so I don't think she could be reasonably included in OH WHAT THE HELL I'M SUCH A GEEK. KieferSkunk (talk) 18:57, 12 August 2015 (UTC)

Not enough of a geek. When Kenobi says "That boy is our last hope," Yoda informs him that there is another. This, combined with Vader's implication she can be turned to the Dark Side - something that is only ever presented as a concern for those with Force power - clearly indicates that Leia is a potential Jedi. Further, at the end of The Empire Strikes Back, she hears Luke "calling" for her, another indication of Force sensitivity. - Val

I would like to interject that Yoda's other hope is probably Anakin/Vader, who actually is the person who defeated the last (canon) Sith in existence. This also fulfilled the prophesy from the fantom menace.HisHighestMinion (talk) 05:50, 21 July 2016 (UTC)

In German the title is "Rückkehr der Jedi-Ritter" which would translate back into "Return of the Jedi Knights" - Plural. So it is/was naturally plural for me, too. But, of course, German movie titles are no reference to the actual meaning. Since some years we occasionally use English titles in Germany, too. But somehow they are different to the original English titles... (No worry: Star Wars is Star Wars - but even that was translated in the 70's to "Krieg der Sterne") Elektrizikekswerk (talk) 09:50, 12 August 2015 (UTC)
Wikipedia does note that Czar had become a title equivalent to King by the 19th Century, so perhaps that ought to be mentioned regarding "We Have a Czar Again." 173.245.54.41 (talk) (please sign your comments with ~~~~)
Specifically, Цар, or "Tsar" would in Bulgarian and Russian mean the equivalent of (native) monarch, while Крал/"kral" would be reserved for foreign monarchs. When referring to an emperor, you'd use император/"imperator". Thus I would argue that "Czar", as the western spelling of Tsar, is a reasonable facsimile for "King". Meledin (talk) 14:11, 12 August 2015 (UTC)
Gaaaah! Power and force are not synonyms! Power and force-velocity are! Edit:thx whoever 108.162.221.75 10:41, 12 August 2015 (UTC)
You can probably put that in the same category as the mass delusion about what weight actually is. (SWIDT?) 141.101.99.90 14:35, 12 August 2015 (UTC)
Not the same, right, but given the other variables remain the same, the Power raises aequivalent to Force. The sentence in whole remains correct that way. 162.158.90.235 (talk) (please sign your comments with ~~~~)
The movie cases look like they form an upside down V, I and I. Could this also be a reference to the new Star Wars movie? --141.101.98.30 19:50, 12 August 2015 (UTC)
I doubt it. It's not obvious enough. KieferSkunk (talk) 21:22, 12 August 2015 (UTC)
"Conveniently" forgot Space Trips V: The Ultimate Border and VI: A Pristine Land, did we Randall? 108.162.250.165 (talk) (please sign your comments with ~~~~)
"Ultimate border" sounds too good. I would suggest:"Remote border" or "The furthest we have been from home (so far)". Continuing: "Space Trip: Overlooked Land ", "Space Trip: Full House", "Space Trip: Touched for the very first time", "Space Trip: Trouble with locals", "Space Trip: Recurring villian", "Space Trip: Space Trip", "Space Trip: Who turned off the light?", "Space Trip: To Infinity!" Carewolf (talk) 10:35, 13 August 2015 (UTC)

"Pristine Land" or "Overlooked land" doesn't really resonate with either the movie or the play. Why not "Space Trip VI: Life After Death"? 141.101.98.145 16:34, 25 August 2015 (UTC)
He also skipped Space Fights: When Identical Twins Attack and Space Fights: The Bad Wizards' Comeback.
And of course Foreigner, Foreigners, Foreigner Cubed, Born-Again Foreigners, and Foreigners Fighting Carnivores. 162.158.255.52 10:33, 29 September 2015 (UTC)
Great, now we have to add Demigod who Stole Fire and Foreigner: Agreement. 172.68.211.82 (talk) (please sign your comments with ~~~~)
Alright, now I'm going to try to do the DC and Marvel Cinematic Universes. Feel free to add or change if you think you could put something better in.
Marvel:
The Angry Green Guy Ferric Man Ferric Man Defends Himself Against the Government Thunder God Patriotic Commanding Officer Everyone From the First Five Films Ferric Man Loses His Gadgets Patriotic Commanding Officer: His Enemy is His Old Friend Thunder God: (The Dark World) Defenders of the Star System Everyone From the First Nine Films Fight a Robot Formicidae Man Patriotic Commanding Officer against Ferric Man Mystic Superhero Defenders of the Star System Again Arachnid Man Returns Thunder God: The Apocalypse (At present)
DC: Übermensch Übermensch II Übermensch III Übermensch IV: No More Nuclear Weapons Chiroptera Man (1989) Chiroptera Man Comes Back Eternal Chiroptera Man Chiroptera Man & Erithacus Rubecula Felidae Woman Chiroptera Man Starts Out Übermensch Comes Back to Earth The Sombre Sir The Source of Light in the 500nm Wavelength The Sombre Sir Climbs The Iron-carbon mixture Man Übermensch fights Chiroptera Man, just because. Villains as Heroes Amazing Amazon All The Heroes So Far (At present) 172.68.211.82 (talk) (please sign your comments with ~~~~)
Thank you to the person who did the comic rotated! My neck was hurting. 108.162.216.164 (talk) (please sign your comments with ~~~~)
I'm curious, does anyone have a list to movie titles that have been similarly altered? 162.158.2.227 06:33, 14 August 2015 (UTC)
Not what you mean, but I'd used Google to look for "film titles translated names" (yeah, 'film' vs. 'movie', I know... but Google seems to have translated my Rightpondian terminology sufficiently) and it looks like it's definitely something people pay attention to. 141.101.98.159 13:15, 14 August 2015 (UTC)

I had no idea what "The Jewelry God," meant, since that's a terribly mangled: "The Lord of the Rings" is of course a reference to the ring that rules all the other rings, as was made plain in the book. So "The Jewelry God" is backwards, and should have been "The God Jewelry." Mwenechanga (talk) 17:50, 8 September 2015 (UTC)
I feel it would've been even better if he'd done word-for-word synonyms transcriptions, instead of phrase "synonyms", which are only synonyms if one takes the "-nym" literally, the full phrase being the movie's name. —Kazvorpal (talk) 17:06, 12 November 2019 (UTC)