194: Penises
Penises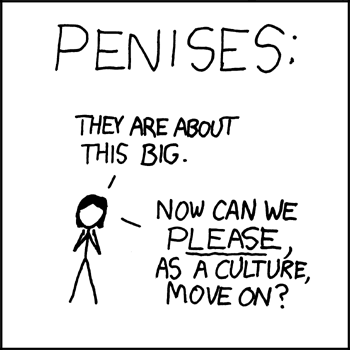 Title text:

The penis varies in size when flaccid and is pretty consistently about yea big when erect. Anyway, back to the sitcom one-liners and the constant flow of spam.
Explanation
The comic takes aim at what is considered by some to be the apparent societal obsession with the male sexual organ ("phallocentrism"), especially in regard to size. In general, depictions of an erect penis (also called phallus) represent male potency.
While present in every human civilization, the symbol of the penis is also prominently featured in modern mass media. Many films and television series make use of penis-related jokes. A very common trope is the male obsession with the idea that a larger penis is considered more desirable, and a smaller penis less manly or satisfying to women.
Megan criticizes this obsession by pointing out that most penises are about the same size, and normal variations in size are not worth getting worked up about.
The title text refers to the excessive advertisement for potency pills and penis enlargement in spam emails. The symbol of the phallus can be regarded by some as omnipresent in modern Western society (but not necessarily in other cultures), with presumably every public toilet sporting at least one badly drawn depiction of a penis.
Transcript
PENISES:
Megan: They are about this big.
[Holds her hands close together, about half a foot apart.]
Now can we PLEASE, as a culture, move on?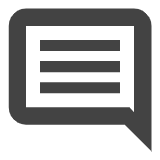 add a comment! ⋅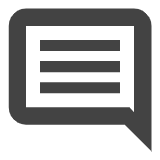 add a topic (use sparingly)! ⋅ 
refresh comments!
Discussion
Anyone who thinks erect penis size does not vary is leading a very sheltered life. 184.66.160.91 02:29, 27 August 2013 (UTC)
Note that "watching monster-cock porn" is not the opposite of "leading a very sheltered life". A quick google search showed that 97% of men are 8 inches or less. Within the normal rules of probability, Megan is correct. 108.162.219.58 (talk) (please sign your comments with ~~~~)
A few points. First, if you're a straight man who doesn't take porn at face (or penis) value, you're not necessarily sheltered, you just don't have a large sample size (one?). Second, even accepting your uncited fact, that still leaves a pretty wide range. A penis of 4-5 inches is noticeably different in size than one of 7-8. Erronius (talk) 06:02, 7 April 2014 (UTC)
My irony meter just exploded 108.162.250.210 15:30, 4 December 2014 (UTC)
Could "flow of spam" be a pun on a word that sounds like "spam"? 173.245.53.160 15:55, 9 November 2013 (UTC)
No. 108.162.215.29 02:50, 17 January 2014 (UTC)
The sizes of all other body parts are extremely correlated, so why shouldn't penises be too? The penis is just this one weird exception. Also, if it's random, wouldn't that imply that smaller guys would have bigger penises in a relative sense? Benjaminikuta (talk) 23:54, 9 June 2023 (UTC)