965: Elements
Elements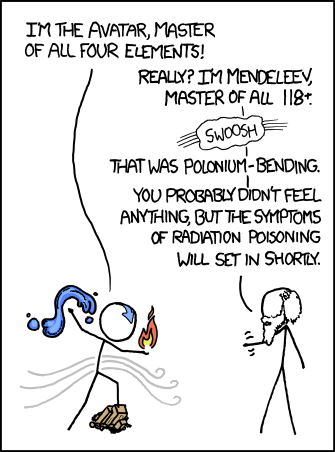 Title text:

Of all the nations, the armies of the ununoctium-benders are probably the least intimidating. The xenon-benders come close, but their flickery signs are at least effective for propaganda.
Explanation
[
edit
]
In the popular children's TV show Avatar: The Last Airbender, the four nations that inhabit the world can each telekinetically control one of the four classical elements: water, earth, fire and air. One person, the avatar, can control all four elements and is markedly more powerful than any other character. Dmitri Mendeleev is the creator of the modern periodic table, which categorizes the 118+ atomic elements by their atomic number.
The comic is comparing the control over more magical power with more practical, "science-y" power. Fire, boulders, and storms may be more impressive visually, but science has proven time and again the "boring" can have very practical, very deadly applications. Additionally, while the advantages of controlling the four alchemical elements are mostly physical and visible (characters in the show most often use their powers to push, throw, or create barriers), the phenomena related to Mendeleev's elements and his research include subatomic particle interactions. One power the depicted Mendeleev has that the Avatar definitely does not have is control over radioactive elements, and this is the subtle, slow-acting power he demonstrates.
Polonium gained a level of notoriety as the poison used to kill Russian dissident Alexander Litvinenko.
The title text talks about power levels of the elements if each element had a controlling nation as per the TV show. Ununoctium (1-1-8-ium) was the placeholder name for Oganesson, the 118th element. It did not officially gain its permanent name until late 2016, 5 years after this comic was released. Oganesson is the heaviest element that has been created, as well as the one with the shortest life before it decays into other elements. Xenon is a noble gas with few practical applications, but it is sometimes used in "neon" signs.
Transcript
[
edit
]
[Aang the Avatar and Dmitri Mendeleev stand in opposition to each other. Aang wields all 4 classical elements: Water, Fire, Earth, and Air.]
Aang: I'm the avatar, master of all 4 elements!
Mendeleev: Really? I'm Mendeleev, master of all 118+.
swoosh
Mendeleev: That was polonium-bending. You probably didn't feel anything, but the symptoms of radiation poisoning will set in shortly.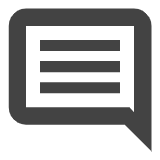 add a comment! ⋅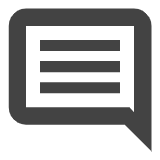 add a topic (use sparingly)! ⋅ 
refresh comments!
Discussion
Where did Mendeleev get the polonium from? Can he transmute elements or something? Davidy²²[talk] 08:26, 9 March 2013 (UTC)
Did someone say transmute? 108.162.219.5 (talk) (please sign your comments with ~~~~)
Just because he died in the dawn of the era of modern fission research it doesn't necessarily follow he disbelieved in the previous manifestation of that branch of physics. I used Google News BEFORE it was clickbait (talk) 20:53, 22 January 2015 (UTC)
If the water in Aang's body (or the water he's bending) came from the Lohontan valley region of Nevada, then his body can have as much as .2 picocuries per liter.[1] this is not enough to kill you or even get you sick, but if Aang is bringing enough water into this epic battle Mendeleev could pull a lethal dose from that. The odds that this battle is taking place in Nevada are probably on a par with the actual Mendeleev the fictional Aang. 170.170.59.139 (talk) (please sign your comments with ~~~~)
Sodium bending would have been much more spectacular, due to the water.108.162.219.202 04:19, 3 January 2014 (UTC)
YEEEEEEEEEEESSSSSSSSSSS!!!!!!!!!!!!!!!!SilverMagpie (talk) 04:28, 1 December 2016 (UTC)
"2. Elements which are similar regarding their chemical properties have atomic weights which are either of nearly the same value (e.g., Pt, Ir, Os) or which increase regularly (e.g., K, Rb, Cs).

3. The arrangement of the elements in groups of elements in the order of their atomic weights corresponds to their so-called valencies, as well as, to some extent, to their distinctive chemical properties; as is apparent among other series in that of Li, Be, B, C, N, O, and F."

I used Google News BEFORE it was clickbait (talk) 20:53, 22 January 2015 (UTC)
Mendeleev was the inventor of the original periodic chart which looks nothing like the modern one. The inventor of the Modern periodic chart was Glenn Seaborg. Kinda sorta. At least you would recognize Seaborg's chart as the modern one where if you saw Mendeleev's you would just go "WTF?". OTOH, both Seaborg and Mendeleev have elements named after them and you do not. --173.245.54.11 17:53, 16 May 2014 (UTC)
Even though he never finalised it, it is pretty obvious that it was going to unfold exactly as he supposed it would. I used Google News BEFORE it was clickbait (talk) 20:53, 22 January 2015 (UTC)
I wonder which element would win? 173.245.56.180 16:17, 23 May 2015 (UTC)
Praseodymium-benders won. 162.158.88.188 09:51, 24 January 2018 (UTC)
I'm pretty sure that polonium is rare, so I will assume that Periodic-type Benders can create their elements at will. If so... Benders of transuranic elements or astatine would be terrifying. -- OriginalName (talk) (please sign your comments with ~~~~)
He just carries some with him at all times, in case something like this happens. 141.101.104.185 (talk) (please sign your comments with ~~~~)
---
He only comes with polonium in the Radioactive pack, banned in China and Russia. Only $1999! If you're cheap though, buy the Extreme pack, which is just Nihanium and Yttrium. llol StillNotOriginal 22:09, 20 May 2018 (UTC)