1716: Time Travel Thesis
Time Travel Thesis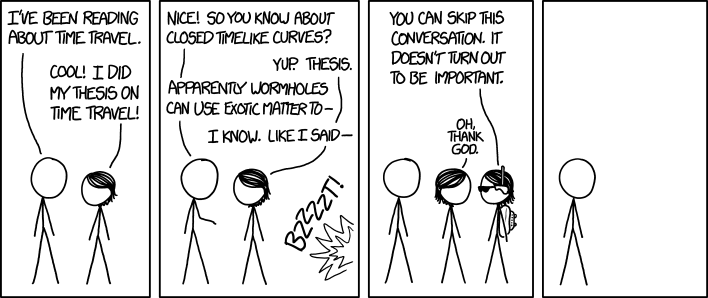 Title text: 'Hey, what are those futuristic goggles for, anyway?' 'Oh, this is just a broken Google Glass. It was 2010's night at the club.'
Explanation
This explanation may be incomplete or incorrect: Created by a BOT - Please change this comment when editing this page.
If you can address this issue, please edit the page! Thanks.
Cueball
has apparently been reading about
time travel
(whether in a book or online, we are not told). He tells
Megan
about this, and Megan excitedly remarks that she did her college thesis on time travel, meaning she did a lot of learning and knows how to not have a bad problem that will make it so she will not go to 1812 today.
Cueball starts talking to her about time travel, trying to explain various facets about it to her, but Megan keeps trying to say that she already knows all of this (and likely much, much more) because she wrote her thesis all about this.
Suddenly, a Megan from the future uses time travel (likely adapted from the work in her thesis) to come back and tell Megan that this conversation doesn't go anywhere and isn't important, and so present Megan can leave and not waste her time anymore. Up till then, Megan was presumably relucatant to break off a conversation on the topic of time travel, since the conversation could potentially have improved.
The Title Text mentions Google Glass and also that it broke in 2010. This is another reference to the time traveling, as there were no Google Glasses available to the public in 2010 (not even now in 2016). So whoever broke the Glasses in 2010 has to be from a future where you can buy them and he/she had to travel back to 2010 to an presumably awesome Party where he/she broke them.
Transcript
[Cueball is facing Megan, talking to her.]
Cueball: I've been reading about time travel.
Megan:Cool! I did my thesis on time travel!
[Cueball is now gesturing toward Megan. An explosion of some sort is shown behind Megan, toward the bottom of the panel.]
Cueball: Nice! So you know about closed timelike curves?
Megan: Yup. Thesis.
Cueball: Apparently wormholes can use exotic matter to–
Megan: I know. Like I said–
Explosion: BZZZZT!
[Cueball and Megan both look right, toward the direction of the explosion. An alternate Megan, wearing a headset and a machine strapped to her back, faces them from the right.]
Alternate Megan: You can skip this conversation. It doesn't turn out to be important.
Megan: Oh, thank God.
[In the fourth panel, both Megans are absent. Cueball continues to stare at their former location. He does not speak.]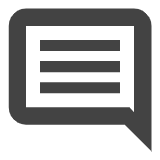 add a comment! ⋅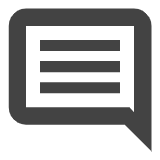 add a topic (use sparingly)! ⋅ 
refresh comments!
Discussion
-BZZZZT!- You can skip this comic and discussion page. It doesn't turn out to be important. -- 172.68.59.18 (talk) (please sign your comments with ~~~~)
Any possibility that future Megan actually uses time travel to assist present Megan to exit? Plm-qaz snr (talk) 07:52, 5 August 2016 (UTC)
I don't feel like it's mainsplaining and I don't think not have a bad problem that will make it so she will not go to 1812 today. is relevant (maybe an joke, but nothing to do with the comic). 162.158.114.230 08:18, 5 August 2016 (UTC)
Did someone really decide mansplaining was the right word to use here? Not only is it entirely inappropriate, but it's not exactly a well-known term, so it's liable to confuse people. 162.158.142.147 08:28, 5 August 2016 (UTC)
I don't think the title text mentions a TimeTravel to 2010. Rather there was a party themed 2010 in the future (Like there are 90's and 80's themed parties nowadays) --162.158.83.198 10:41, 5 August 2016 (UTC)
How did future Megan know that the conversation wasn't important if she didn't attend it in her past (in fact, no-one did or would)? A grandfather paradox. At best, she remembered to tell her past self, in which case it's still a bootstrap paradox (and an impressive feat of human memory, though Novikov self-consistency principle might hav helped her "randomly" remember). 141.101.95.99 10:57, 5 August 2016 (UTC)
Alright, anyone who is willing to make the claim that "Google Glass will probably become popular in the 2010's" is living in a fantasy world. I've edited it to make the far more accurate claim that it could be either because Glass became popular or because Glass was an esoteric piece of hardware that lived (and died) in the 2010's. 172.68.34.122 15:21, 5 August 2016 (UTC)
Can someone include the explanation what a closed timelike curve is? --162.158.133.66 07:32, 8 August 2016 (UTC)