733: Eagle
Eagle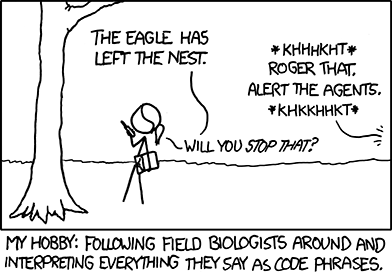 Title text:

In the off-seasons, I hire an animal trainer to help confront secret agents with situations which they are unable to report by radio.
Explanation
[
edit
]
This is another comic in the My Hobby series. This comic is making a play on the typical "secret agent" code phrases such as the one above or "The Eagle has landed." or "The cobra has struck." The word "eagle" is especially popular for code phrases, referring to craft containing a VIP. Randall says that his hobby is to follow field biologists around and interpreting everything they do as a code phrases. "The Eagle has landed" was also the first sentence Neil Armstrong sent back to earth on the first manned moon landing by Apollo 11 back in 1969. The *KHHHKHT* noises that the character is making are imitations of the static sounds made when using a walkie-talkie or other radio devices. On real radios, this happens only at the end of a transmission; the first use of the sound would be the end of Ponytail's legitimate transmission, while the second one is from the fake transmission.
The title text is saying that when the character in the comic is not following field biologists and pretending they're saying code phrases, he is doing the reverse to secret agents. By hiring an animal trainer he can give them a situation they are unable to report, such as seeing an actual eagle land in front of them.
Transcript
[
edit
]
[Ponytail is looking up into a tree, holding a clipboard in one hand and a radio in the other.]
Ponytail: The eagle has left the nest.
Off-panel: *KHHHKHT* Roger that. Alert the agents. *KHKKHHKT*
Ponytail: Will you stop that?
[Caption below the panel:]
My hobby: Following field biologists around and interpreting everything they say as code phrases.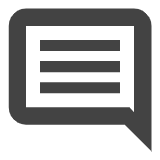 add a comment! ⋅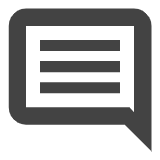 add a topic (use sparingly)! ⋅ 
refresh comments!
Discussion
The one time the biologists are actually speaking in code, they'll regret having told the people around them to stop misinterpreting everything they say. Davidy22[talk] 13:23, 18 February 2013 (UTC)
What's with the weird box, never happened before. Can someone fix it?Dontknow (talk) 22:42, 7 March 2017 (UTC)
I gotcha. You accidentally put a space in front of the paragraph, which makes it code. -- 625571b7-aa66-4f98-ac5c-92464cfb4ed8 (talk) (please sign your comments with ~~~~)