1924: Solar Panels
Solar Panels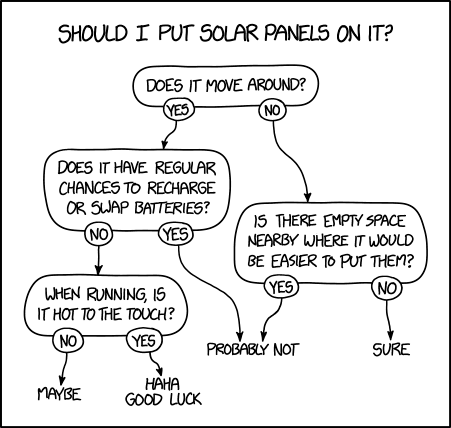 Title text:

This works for a surprising range of sunlit things, including rooftops (sure), highway surfaces (probably not), sailboats (maybe), and jets, cars, and wild deer (haha good luck).
Explanation
[
edit
]
This handy decision tree aims to help in finding out whether a given object should have solar panels installed on it.
The root question is whether the object of choice moves. If it doesn't and has no nearby empty space that would be more practical for the solar panel installation, then yes, the object should be equipped with the solar panels. If the object is static, but you could more easily install the panels somewhere else nearby, probably that's the best place. An example of this is a slanted rooftop of a house or a field on a hillside: it's certainly possible to put solar panels there, but if a flat surface, like a flat-roofed house or a level field, is available, it would generally be easier to put them on that. This way, you can select the optimal direction for the panels to face, which might not be possible on a given incline, or even have them move to track the sun. However if the house has a side that is turned towards the sun (south in the Northern hemisphere) then a house roof could be even better than on the ground, which is why the title text says "sure" for rooftops. For another example of things where "putting next to it" instead of "on it" is generally the easier (and arguably) option, see the "highway surfaces" of the title text.
If the object moves, the next question is whether its batteries can be recharged or swapped with ease, in which case batteries may be a better option than solar panels, if the purpose of the panels is to power the object. The idea is that solar panels on a vehicle sound like an interesting idea, but batteries can be much more easily (and economically) recharged from a fixed electrical station than using solar panels on the vehicle as a power source.
Finally, if the object moves and batteries are not an option, the last question is whether the object heats up during operation. If so, solar panels may not work well. Randall doubts it mockingly, see also the title text regarding his Haha Good luck final option. Solar panels can only produce electrical power equal to about 20% of the solar radiation they receive. Thus, a device which heats up during use likely consumes much more power than the amount which could be produced by solar panels covering its surface - so "good luck". Obviously, many animals are also "moving objects" fitting this condition, and installing solar panels on them is bound to be a challenge. Moreover, solar panels do not work effectively when excessively hot [1] (solar panels are typically designed to operate in temperature ranges of 15-25 Celsius, 59-77 Fahrenheit, 288.15-298.15 Kelvin, 518.67-536.67 Rankine, or 37-51 Felsius).
But if changing batteries is not an option, and heat production and power requirements are low, then solar panels can be an excellent solution on a moving object. An excellent case for this is on space probes and satellites, which are typically powered entirely by solar panels. Randall is well aware of this, as shown with the comics 695: Spirit and 1504: Opportunity about the two solar powered Mars rovers, although in this comic he seems to have only been concerned with Earthbound objects.
The flow chart, however, does not mention if the thing in question actually needs solar panels, but according to the title text it works very well, and thus Randall implies that if the answer is sure then it is relevant to put solar panels there. The more solar panels in place, the less fossil fuels are needed, and this is in line with Randall's general interest in reducing climate change.
The title text suggests that this flow chart is very broadly applicable to anything the Sun hits. It takes rooftops as one of the sure things, highway surfaces as probably not (see below), sailboats as a maybe, whereas all these moving objects, jets, cars, and wild deer ends up on the haha good luck result, as they get too hot when running. Randall tries to make the reader envision a wild deer with solar panels on it. As opposed to a car, though, a wild deer has no use of the electricity created by a solar panel, and it would be very hard for those installing it in the first place to come back and extract any energy stored by the panels...
"Highway surfaces" is likely a reference to "photovoltaic pavement". Engineers[citation needed] commonly[citation needed] regard the idea as a nightmare to implement; it would be more practical to install the solar panels beside the road where damage by cars is less of an issue.
Transcript
[
edit
]
[A flow chart that features four questions in bubbles. Each question has yes/no options in bubbles overlain to the left and right on the question bubble. Curved arrows points from the yes and no bubbles to either next question or the result. The result written at the bottom is not inside bubbles. The chart has two main branches, that ends up in five places using only four different results, as the middle result is shared by both branches. Above the chart there is a caption:]
Should I put solar panels on it?
Does it move around?

Yes

Does it have regular chances to recharge or swap batteries?

Yes

Probably not

No

When running, is it hot to the touch?

No

Maybe

Yes

Haha good luck

No

Is there an empty space nearby where it would be easier to put them?

Yes

Probably not [Uses the same sentence as the one in the first branch.]

No

Sure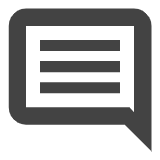 add a comment! ⋅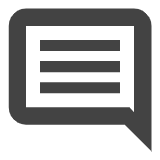 add a topic (use sparingly)! ⋅ 
refresh comments!
Discussion
Sorry, but who, except the odd American, has *empty space* next to anything that belongs to him? ;-) --162.158.89.199 20:47, 4 December 2017 (UTC)
And really, if it moves, just keep the diesel engine in it, or switch to hybrid if you can. Batteries that are charged from power plants running on fossile fuel are an ecological nightmare. And car batteries are usually charged overnight, when solar panels are dead. --162.158.89.199 20:54, 4 December 2017 (UTC)
I think that the reference to solar panels on roads in the title text could also be talking about the disaster that is solar roadways. 108.162.221.244 22:50, 4 December 2017 (UTC)
I don't think it's appropriate to use rooftops as an example of where solar panels should not go when the title text of the comic specifically uses rooftops as an example of a good place for solar panels. How many people have an empty field near their house? I also think it's worth mentioning Solar Freakin' Roadways YM Industries (talk) 04:08, 5 December 2017 (UTC)
The current transcript is not very useful for people who use screen readers, or for any other purpose (e.g. full text search). Could someone please describe the flowchart in a purely textual, "linear" fashion, as was done for other flowchart comics? Thanks very much in advance! Zetfr 15:01, 5 December 2017 (UTC)
The flowchart doesn't use standard flowchart symbols - they remind me of cars/trucks, each having a (rounded body) plus two wheels (holding yes and no). Anyone think this is deliberate?
The reason that you don't want to put solar panels on something that is hot is not because hot things use more power. It's because the efficiency of solar panels decreases as a function of temperature: See here for example http://news.energysage.com/solar-panel-temperature-overheating/. This is why solar panels on a road are not a great idea (among other reasons). 108.162.219.76 01:23, 6 December 2017 (UTC)
Maybe I'm just a bit slow here, but why are jets, cars and deer considered hot to the touch when running? Sure, jets and cars do have hot parts when running - but so have many modern sail boats (at least motorized ones). And what about deer? The only deer being hot is the one in my oven - and there's no sun. Elektrizikekswerk (talk) 14:31, 6 December 2017 (UTC)
Randy SO missed the "If you like it..." angle. All the single rooftops! (I'll show myself out) 172.68.244.252 15:20, 8 December 2017 (UTC)
Why does animals being classified as "moving objects" require a citation? 108.162.241.220 (talk) (please sign your comments with ~~~~)
What about a Tesla with a solar unit with panels that that pop out of the hood storage? 172.68.189.241 01:24, 4 June 2019 (UTC)