Difference between revisions of "830: Genetic Analysis"
Line 31:
Line 31:
 

[[Category:Comics featuring Cueball]]

 

[[Category:Comics featuring Cueball]]

 

[[Category:Comics featuring Megan]]

 

[[Category:Comics featuring Megan]]

−

[[Category:Romance]]

+

[[Category:]]
---
Revision as of 04:23, 15 December 2013
Genetic Analysis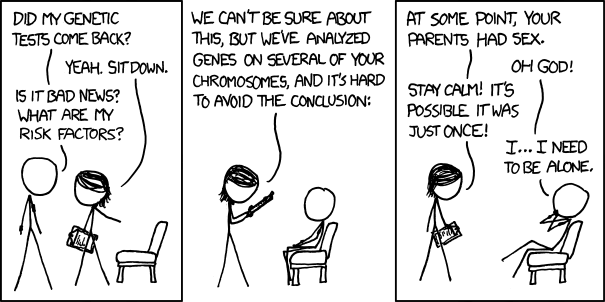 Title text: There's still a chance you were conceived via IVF. But we've checked your mom's college yearbook photos, and whether or not she and your father had sex, it's clear that ... listen, I know this is hard for you.
Explanation
Genetic testing is a real medical procedure, where researchers analyze your DNA and family history to determine if you have any elevated risk factors for things like heart conditions and cancer. Here, the doctor appears to be delivering the results of Cueball's genetic test, but instead tells him that his parents had sex at some point.
People generally don't like thinking about their parents having sex, but it obviously happened, since having sex is usually the precondition for having children. So this test result is completely unsurprising.
The title text notes that he could be an in-vitro fertilization baby, which does not require the parents to directly have sex, but concludes that his mother has probably had sex anyway, given how attractive she was in college.
Transcript
Cueball: Did my genetic tests come back?
Megan: Yeah. Sit down.
Cueball: Is it bad news? What are my risk factors?
[Cueball is now sitting in the chair awaiting her answer. Megan looks down at the clipboard.]
Megan: We can't be sure about this, but we've analyzed genes on several of your chromosomes and it's hard to avoid the conclusion:
[Megan puts down the clipboard and looks at Cueball as she delivers her news. Cueball puts his hands to his face in dismay.]
Megan: At some point, your parents had sex.
Cueball: Oh God!
Megan: Stay calm! It's possible it was just once!
Cueball: I... I need to be alone.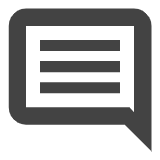 add a comment! ⋅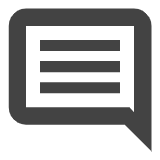 add a topic (use sparingly)! ⋅ 
refresh comments!
Discussion
I guess it's what they say. Sex is genetic. If your parents never had it, you probably won't either. :) TheMightyGunns (talk) 23:37, 21 May 2014 (UTC)
The title text may imply that his mother was pregnant in college, rather than being attractive. 162.158.155.26 15:03, 19 February 2018 (UTC)