118: 50 Ways
50 Ways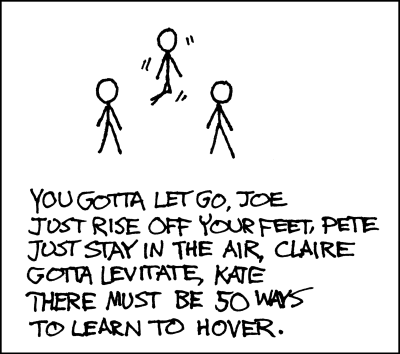 Title text:

I woke up to find that I had scrawled the last line of this sleepily on a sheet of paper on my desk. I shouldn't have listened to the 70's hit marathon on the way home from work the night before.
Explanation
[
edit
]
The comic provides alternate lyrics to the chorus of the 1975 song "50 Ways to Leave Your Lover" (Video) by American artist Paul Simon. Both the original and alternate lyrics provide a textual hook because the name at the end of the line is rhymed with the word before it (back/Jack, plan/Stan, go/Joe).
Randall, we learn from the title text, heard Simon's song during a '70s hit marathon, went to sleep, and while being sleepy replaced "lover" by "hover" while writing the last line of the song's chorus. Thus changing this line from to leave your lover into to learn to hover. Clearly, this amused him so much that he decided to create a comic where people learn how to hover, rather than leave their lover.
Transcript
[
edit
]
[Two figures stand around a levitating person.]
You gotta let go, Joe
Just rise off your feet, Pete
Just stay in the air, Claire
Gotta levitate, Kate
There must be 50 ways
To learn to hover.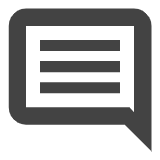 add a comment! ⋅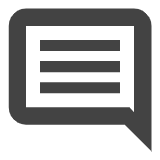 add a topic (use sparingly)! ⋅ 
refresh comments!
Discussion
Might there also be a cultural reference to the Hitchhiker's Guide to the Galaxy? In the books, characters can learn to hover or fly by perfecting the art of managing to miss the ground when falling. Gleyshon (talk) 01:04, 8 December 2012 (UTC)
You are so right, perhaps the key is 42, lets try to use it to figure out ultimate questions around us, such as what doesn't make since to us as society as a whole? - 98.211.199.84 13:58, 3 March 2013 (UTC)
The date of this one seems to be wrong. 141.101.80.120 12:01, 6 May 2016 (UTC)