Main Page
Welcome to the explain xkcd wiki!
We have an explanation for all 2261 xkcd comics, and only 29 (1%) are incomplete. Help us finish them!
Latest comic
Reaction Maps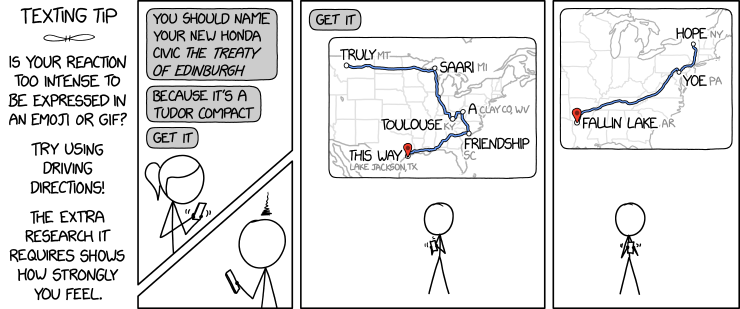 Title text:

If Google Maps stops letting you navigate to (Clay County District) A in West Virginia, you can try Jump, OH -> Ina, IL -> Big Hole, TX.
Explanation
| | |
| --- | --- |
| | This explanation may be incomplete or incorrect: Created by an EMOJI OR GIF. Why is Ponytail's pun so bad for Cueball that he wishes to end the friendship over it. It is not just a joke. Any explanation for this would be great. Do NOT delete this tag too soon. |
This is another one of Randall's Tips, this time a Texting Tip. Randall suggests that readers send a set of driving directions as an intense / extremely annoyed response (a "Reaction Map", named after the "Reaction Face", "Reaction Gif", and other memes).
In this comic, Ponytail texts the following car pun/joke:
You should name your new Honda Civic The Treaty of Edinburgh
Because it's a Tudor compact ["Tudor" pronounced "two-door" in some USA accents, "tyudor" elsewhere.]
The Treaty of Edinburgh was a treaty drawn up in 1560, which falls during the Tudor period of the history of England, while a compact is another word for a treaty -- hence a Tudor compact. A Honda Civic is a compact car, which has a coupé body model with only two doors (there are also hatchback and 4-door sedan versions) -- hence a two-door compact. The joke is thus a double pun on the similarity of the words "Tudor" and "two-door", as well as a pun on the words "treaty" and "compact."
Puns rise and fall in popularity, and some people dislike them at all times. Recipients often groan, sometimes even while laughing or smiling. Because of this pun, Cueball gets so mad at Ponytail that he replies twice, first that their friendship is over and second that he hopes she falls in a lake. Both times he uses driving directions to do so because he wishes to show how mad he is by spending time finding cities with relevant names just to do it.
The list of map destinations, Truly, Saari, Toulouse, A, Friendship, This Way is a way of saying, "Truly sorry to lose a friendship this way". The list of map destinations, Hope, Yoe, Fallin Lake is a way of saying, "Hope you fall in [a] lake".
"A" is one of the three districts in Clay County WV. The others are "B" and "C".
In the title text, Randall offers a different option if "A" is removed from Google Maps, Ina (IL), to make this response: Jump, Ina, Big Hole ("Jump in a big hole".)
In 2245: Edible Arrangements, Cueball was irritated by a pun from Megan which was also themed on English history ("Vore of the Roses"), but in that strip, he evidently didn't get angry enough to send a map expressing that he would "Cancellada Arrangements" he had bought for her -- he simply told her so in person and then walked away when she kept punning.
Transcript
| | |
| --- | --- |
| | This transcript is incomplete. Please help editing it! Thanks. |
[Caption to the left of the comic:]
Texting Tip
Is your reaction too intense to be expressed in an emoji or gif?
Try using driving directions!
The extra research it requires shows how strongly you feel.
[A split panel, showing Ponytail texting Cueball with her text messages shown above in gray and Cueball reading the texts angrily below]
Ponytail: You should name your new Honda Civic The Treaty of Edinburgh
Ponytail: Because it's a Tudor compact
Ponytail: Get it
[Cueball replies to Ponytail, with his text messages shown above him. Ponytail's last text ("Get it") is shown. Cueball sends Ponytail a screenshot of driving directions that go through Truly, Saari, Toulouse, A, Friendship, and This Way]
[Cueball continues to text Ponytail, with his text messages shown above him. He sends Ponytail a screenshot of driving directions that go through Hope, Yoe, and Fallin Lake]
Is this out of date? Clicking here will fix that.
New here?
Lots of people
contribute to make this wiki a success. Many of the recent contributors, listed above, have
just joined
. You can do it too! Create your account
here
.
You can read a brief introduction about this wiki at explain xkcd. Feel free to sign up for an account and contribute to the wiki! We need explanations for comics, characters, themes and everything in between. If it is referenced in an xkcd web comic, it should be here.
There are incomplete explanations listed here. Feel free to help out by expanding them!
We sell advertising space to pay for our server costs. To learn more, go here.
Rules
Don't be a jerk.
There are a lot of comics that don't have set-in-stone explanations; feel free to put multiple interpretations in the wiki page for each comic.
If you want to talk about a specific comic, use its discussion page.
Please only submit material directly related to (and helping everyone better understand) xkcd... and of course only submit material that can legally be posted (and freely edited). Off-topic or other inappropriate content is subject to removal or modification at admin discretion, and users who repeatedly post such content will be blocked.
If you need assistance from an admin, post a message to the Admin requests board.