2067: Challengers
Challengers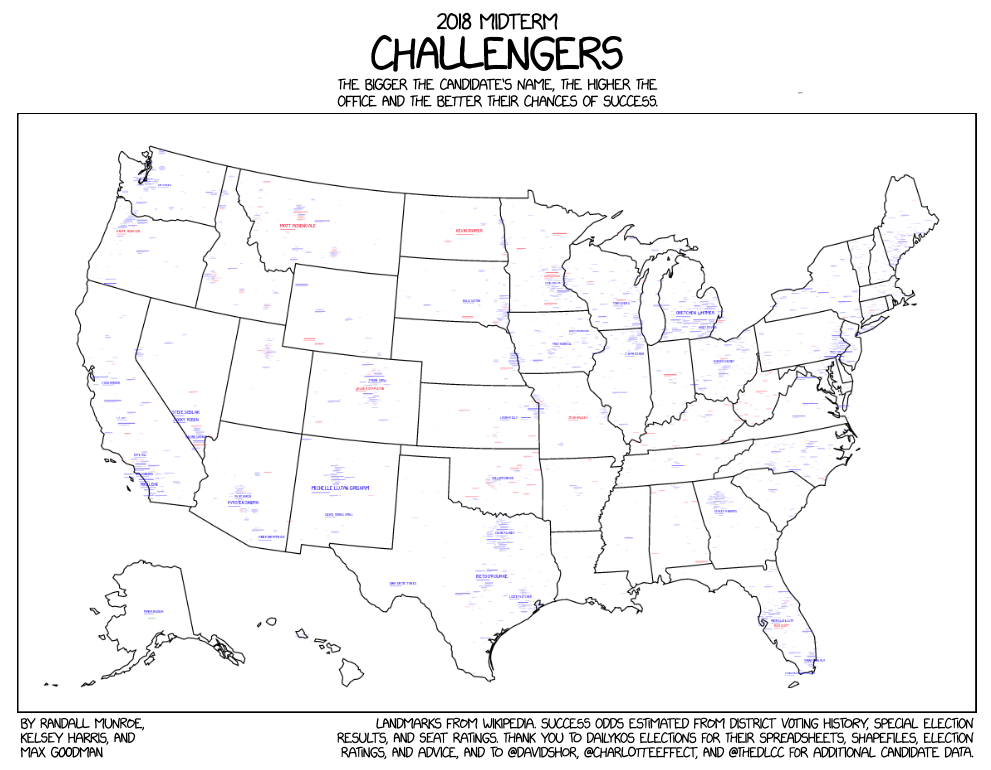 Title text:

Use your mouse or fingers to pan + zoom. To edit the map, submit your ballot on November 6th.
To see the full zoomable picture go to the original comic page. On that map, when using a keyboard/mouse, doubleclick zooms in, shift-doubleclick zooms out.
Explanation
[
edit
]
Regarding the midterm elections held in the United States on November 6, 2018, this comic shows probably all challengers, which are candidates running against the current office-holder, as well as those running in open seats where a change of the major party from the previous election could occur. It is the second of three consecutive comics that deal with this election.
Randall states on top that "The bigger the candidate's name is,"
the higher the office is in command structure, and
the better their chances of success as a challenger are
While an office can be subclassified by order from state down to county, the guesses on better chances to success can be only based on surveys before the elections.
All names provide an indirect link to the first Google Search result on that specific person and position. As common, Democratic candidates are shown in blue text, Republican candidates in red, and independent candidates are in green.
The landmarks shown in gray are essentially links to Wikipedia pages containing coordinates pointing to the US in their body (both visible on the site and hidden in the wiki source) that point to places in the US. If they contain more than one coordinate then the first one is used, for example the List of the major 3000-meter summits of the United States page is shown in Alaska, and the xkcd page is linked near Boston, Massachusetts. This list seems to be auto-generated from a Wikipedia dump made possibly before 2017. There doesn't seem to be any other criteria as the list also contains orphaned wikipedia pages that only contain hidden coordinates in their sources pointing to the US, for example this one. Wikipedia pages containing these coordinates can be easily enumerated on the site in blocks of 500 at a time.
Since the map is large there's also a loading screen present that can be seen while the map is loading.
There are a total of nine comics embedded into the map at various locations. They are showed when zooming into the map at the appropriate section.
Attack Ads
[
edit
]
Location: Lubbock, Texas
[Black Hat and Cueball are talking.]
Black Hat: Starting on November 7th, we're going to blanket the airwaves with attack ads.
Cueball: Isn't the election on November 6th?
Black Hat: Yeah, the advertising rates go way down after that.
Attack ads are campaign advertising that usually attack the opponents' campaign instead of promoting one's own. The comic also refers to the fact that media outlets usually spike their advertising prices during the campaign, and it becomes cheaper afterwards. However there's usually no point in advertising afterwards for a campaign as the polling has already taken place. This may also be a callback to 1130: Poll Watching.
Lubbock was the place where some attack ads were shown few months before the election. Texas is also notable as in 2008 during the Democratic Party primary Hillary Clinton started running attack ads aimed at Barack Obama, who later became President, causing controversy.

Ballot Measures
[
edit
]
Location: Weed, California
[Cueball is holding a piece of paper and talking to Megan.]
Cueball: Question #1 voids all 2018 ballot measures except itself.
Cueball: Question #2 retroactively lowers the threshold for passing ballot measures to 5%.
Cueball: Question #3 requires a re-vote on all failed ballot measures a day later.
Cueball: Question #4 requires a re-vote on all passed ballot measures a day later.
Cueball: Question #5 bans those annoying phone scammers, but also says that if an odd number of ballot measures pass, Christmas is canceled.
Cueball: Question #6 makes a "yes" count as a "no" on odd-numbered ballot measures.
Cueball: Question #7 does nothing but counts as a ballot measure passing.
Cueball: Question #8 says that-
Megan: I'm leaving these all blank and voting against whoever approves ballot measures.
Ballot measures are proposed laws that are approved and rejected by voters. In California, apart from the elections to Congressional and state offices, there will be also be 12 extra propositions for the voters in this election. Sometimes propositions also include changing how voting should be done in subsequent elections. There are people who believe proposals on US ballots are asked in a very convoluted way, and could be made simpler.
In this comic a lot of the proposals sound complex and self-referential as well, therefore Megan just says that she doesn't wish to vote to any of them, and would actually like to ban people creating ballot papers like this. Not voting might also refer to the scenario where people believe none of the choices during an election are good, and instead vote to no-one or deface their ballot papers in protest.
The name of the town chosen, Weed, California, may be a pun on how marijuana is legal in California.

Carlymandering
[
edit
]
Location: Bellingham, Washington
[Cueball holds a presentation to a group of people including White Hat and Hairbun sitting at an office desk. The presentation shows a map of a district.]
Cueball: Under my new Carlymandering plan, we'll create five red districts, five blue districts, and one district which contains only Carly Rae Jepsen.
Hairbun: That seems fair.
This refers to gerrymandering, a tactic used to re-shape voting district boundaries to make sure one candidate prevails over the other. "Carlymandering" is a malamanteau which combines gerrymandering with Carly Rae Jepsen, a Canadian singer, whose single "Party for One" was released the day before the comic's publication. Although the song is about partying (e.g. going out) alone,[citation needed] the joke is that it could also mean a one-person political party, and she would have a full gerrymandered district to herself.
Jepsen lives in Vancouver, which is just on the other side of the US border in Canada. The comic is placed in Whatcom County, which is notable for Point Roberts, a peninsula which, although part of Washington state, is actually an exclave of the US, as it's surrounded by sea on three sides, and has its only land border with Vancouver to the north. The comic might refer to the fact that Jepsen could solely live in this exclave. However, since she is not a US citizen, she can neither vote nor be elected in US elections.

Location: Washington, DC
[Cueball is standing in the middle of Washington, DC]
Cueball: I can see my House from here!
Comic is probably referencing the White House, the residence of the President, located in Washington, DC. This could also refer to the Capitol Building, the home of the House of Representatives, also located in Washington, DC.

Location: Primm, Nevada
[A group of five people are standing]
Blondie: Remember: The only poll that counts is the one on Election Day. And the ones that help campaigns allocate resources. And the ones that drive media coverage and the ones that inform us all about what our fellow members of the public believe. And the ones that...
The word "poll" has two distinct meanings in regards to elections -- the place where you go to cast your official vote is called a poll, as are the unofficial surveys done to try to gauge how people are likely to vote.
During campaign there is usually polling done by survey companies to determine each candidate's chances of winning. This comic refers to the fact that often the candidate that is behind in the unofficial polls tells their electorate that these polls don't matter, as they are just surveys and not the actual final result. This is usually to encourage their voter base that it's still worth voting for them. The joke here is that Blondie doesn't finish here but tells the electorate that other polls are actually also important.
Nevada is one of the states where there is only a slim difference between the candidates based on polls hence the need for each candidate to rally their supporters and make sure everyone is voting.

Location: Chadron, Nebraska
[Megan is standing at a podium with her arm raised]
Megan: If elected, I vow to find and punish the voters responsible.
Often candidates make promises of things they will do when they are elected. Vowing to find and punishing people responsible for a certain action, oftentimes criminals, is also common. However, certain performance artists aside, these two things are generally not conflated, as they are here, to ludicrous effect.
Putting this comic into Nebraska might refer to the fact that in 2016 Nebraska voted to repeal the death penalty ban, allowing the reinstatement of the death penalty, also called capital punishment, in the state.

Scholten
[
edit
]
Location: Storm Lake, Iowa
Cueball: The midterms are so stressful.
Megan: I just hope J.D. Scholten wins.
Cueball: Why?
Megan: Google Steve King.
[Cueball looking at his phone]
Cueball: Yikes.
J.D. Scholten is a Democratic candidate for Iowa's 4th Congressional District. Steve King is a Republican representative who has stirred controversy due his endorsement of candidates, in other countries, who were members of parties with white supremacist ties, and he has explicitly and frequently stated concern with the American society being destroyed by "other people's babies".
King would go on to win re-election by a narrow margin.
Spanberger
[
edit
]
Location: Richmond, Virginia
[Cueball is holding a sign that says: Abigail Spanberger for Congress]
Abigail Spanberger was a candidate running for Congress in Virginia's 7th district, which includes Richmond. Based on polls she had a chance to beat her opponent, and she then became the first Democrat in her district after 50 years of Republican control, beating out Republican incumbent David Brat by 2 percentage points. Cueball probably was trying to encourage people to vote for her on election day.

St Louis
[
edit
]
Location: Saint Louis, Missouri
[Two people next to the Gateway Arch are talking]
Cueball: Ah, Saint Louis. Home of America's largest... Whatever that thing is.
Saint Louis, Missouri is the location of the Gateway Arch, the largest arch in the United States. (It's also one of the most recognizable arches in Saint Louis, according to 1368: One Of The.) Since in this comic they are next to the side of the arch, it is possible its sheer size stops them from determining what it is, although they should probably know. An alternate interpretation is that they are baffled by the existence of a giant, seemingly-useless steel arch, and do not know what to refer to it as.
The area surrounding the Arch was known as Jefferson National Expansion Memorial until February 2018, when it was renamed to Gateway Arch National Park.

Title text
[
edit
]
The title text shows the hint that the reader can zoom in and move over all 50 states to reveal details which can't be seen in the overall view. Furthermore Randall calls on Americans to vote: he requests that people take an active part in the elections to change that picture.
Transcript
[
edit
]
[A loading screen appears shortly before the large picture has rendered. We can see an American flag in an oval badge with the text:]
I voted
[And beneath a text saying:]
Loading...
2018 Midterm
Challengers
The bigger the candidate's name, the higher the office and the better their chances of success.
[In a frame a zoomable map shows all US-States (Alaska and Hawaii are shown in the left lower corner.) The candidates are shown colored mainly in red and blue at different sizes. Each state has many landmarks shown in gray. There are also many comics embedded into the picture.]
By Randall Munroe, Kelsey Harris, and Max Goodman
Landmarks from Wikipedia. Success odds estimated from district voting history, special election
results, and seat ratings. Thank you to Dailykos Elections for their spreadsheets, shapefiles, election
ratings, and advice, and to @davidshor, @charlotteeffect, and @thedlcc for additional candidate data.
When this comic was released the Header text changed to help people on how to vote in the upcoming election. See this trivia from the 2068: Election Night comic, released after this one.
The interactive picture did not work in many browsers when using the link www.xkcd.com, only the short xkcd.com worked properly because the page used an absolute link to a file map-data.json at the domain xkcd.com which is not allowed from www.xkcd.com according to Cross-origin resource sharing. This was later fixed by using a relative link only working inside the called domain.
The internal comics have a kind of "comic" inside the map-data.json file that contains all of the details shown on the map. All other locations, including politicians and landmarks inside the map-data.json have a kind of "label"
There are a total of

9 subcomics
17,643 labels, including:

13,339 landmarks (gray)
2,845 Democratic candidates (blue)
1,456 Republican candidates (red)
3 independent candidates (green)

The three independent candidates are:

Alaska Congress candidate Alyse Galvin
Texas State House District 101 candidate James Allen
Alabama State Senate District 10 candidate Craig Ford

The largest names on the map (based on font size) are:

Michelle Lujan Grisham, Governor candidate for New Mexico (7.187)
Beto O'Rourke, Texan US Senate candidate (6.773)
Matt Rosendale, Montanan US Senate candidate (6.773)
Gretchen Whitmer, Governor candidate for Michigan (6.48)

There's a landmark label called "xkcd" near Boston, Massachusetts
Randall seems to have collected the Wikipedia links from an older copy of Wikipedia, as some links are to old article titles. For example, in Cupertino, California, "Apple Campus 2" is shown instead of "Apple Park", even though that article was moved to its current title in February 2017.
An overview highlighting some parts: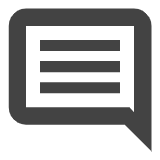 add a comment! ⋅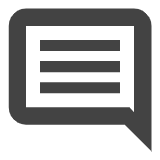 add a topic (use sparingly)! ⋅ 
refresh comments!
Discussion