285: Wikipedian Protester
Wikipedian Protester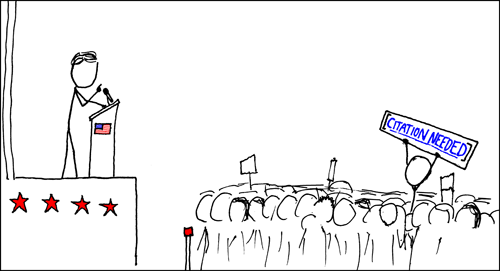 Title text:

SEMI-PROTECT THE CONSTITUTION
Explanation
[
edit
]
Cueball holds up a sign reading "[Citation needed]" during a political speech. The sign text is based on the Wikipedia template that can be placed next to statements that need citations, (that look like this[citation needed]) usually because of questionable validity. Cueball is using this template to challenge the politician's speech, as political speakers often throw out claims having dubious or no factual basis. This comic was posted on Independence Day in 2007.
The title text represents an alternative sign the protester could be holding. It is a pun on popular phrase "protect the Constitution", which urges politicians to pass and enforce laws in a way that preserves the rules and rights set down by the U.S. constitution. "Semi-protect" is a reference to the Wikipedia semi-protection policy, which is used to prevent important articles from being edited anonymously or by new users. Semi-protection on an article is shown by displaying this lock
on the top right of an article. Constitutional amendments are proposed by Congress, which isn't anonymous, meaning that in effect, all articles of the Constitution are technically already semi-protected. Funnily enough, the "Constitution" and "Constitution of the United States" articles on Wikipedia are now semi-protected due to excessive vandalism.
Transcript
[
edit
]
[A man with dark flat hair is standing at a podium. He is speaking to a crowd while standing behind a lectern. The lectern has a microphone on the top and sports an American flag in color on the side. He holds an arm on the lectern and the other arm is held up in front of him with a finger pointing upwards. There are four red stars on the side of the podium below him and behind him something that could be high curtains. There is an empty gap between the podium and the first people in the crowd followed by a stick with a red top, which indicates a fence to keep the crowd at a distance from the podium. After the fence there is a large crowd of people listening, most of them only partly drawn, only a few has hair. Three signs can be seen above the heads of the crowd, but they are all empty white signs. Except in the middle of the crowd, where Cueball has been raised above the rest of the crowd. He is holding a large sign up over his head in both hands. The sign has a blue text in black square brackets:]
[Citation needed]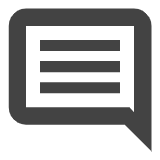 add a comment! ⋅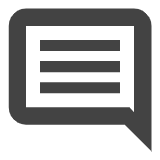 add a topic (use sparingly)! ⋅ 
refresh comments!
Discussion